Earlier on Monday (6 Feb), Progress Singapore Party (PSP) on Monday (Feb 6) called for a housing policy "reset". The HDB is no longer both affordable and accessible, despite the incumbent saying so.
Under the Millennial Apartments Scheme, PSP's Leong Mun Wai proposed that the Government keep a large stock of "quality flats" for young couples and groups of Singaporeans to rent for two to five years at affordable rates. The main supply of such flats will come from prime locations near the central business district, he added.
PSP's Hazel Poa also pointed out that current housing policy has delivered on either affordability or accessibility, but not both. She noted that one of the ways rising prices have been kept "affordable" is by stretching the loan repayment period. However, this means that CPF money is drained for longer, and the amount of interest that a buyer needs to pay also increases. All in all, this worsens retirement adequacy.
"The second method provides an illusion of affordability by presenting a selling price after subsidies and grants that is lower."

Hazel Poa
"Affordability is not about whether the housing loan can be serviced on a month-to-month basis by CPF savings or not, but by looking at the effect of the total cost of home ownership on the CPF retirement account." 

Leong Mun Wai
However, PAP thinks that housing is still affordable and accessible.
Minister Desmond Lee says that the Government has kept BTO prices "almost flat" despite strong demand and rising construction costs in the past two years.
Although he acknowledged that resale flats have increased in prices over the past years, he seemed to have forgotten that many first-time buyers who are unable to get a BTO have to resort to resale flats. The unfortunate thing is, there are many such buyers.
Basically, the ministers did not take any of PSP's suggestions into proper consideration before shutting the PSP's arguments down.
"I strongly reject the insidious premise of the first motion (from the PSP), that the review (of public housing policy) is required in order to deliver affordable, accessible housing, which is to say that this Government is not doing so now for the majority of Singaporeans."

Murali Pillai
PAP is not in tuned with the ground.
Perhaps it is easy for the people around them to get a BTO number. Even if they can't get a BTO, they have enough resources for a resale or even private housing. On the other hand, Singaporeans are experiencing a different reality. There is a high rejection rate for BTO applications, and many first-timers are unable to afford a resale flat.
PM Lee Hsien Loong wrote in a Facebook post that actually more families are becoming flat owners as they are completing more than 20,000 flats each year. However, we need more information to make sense of such a number.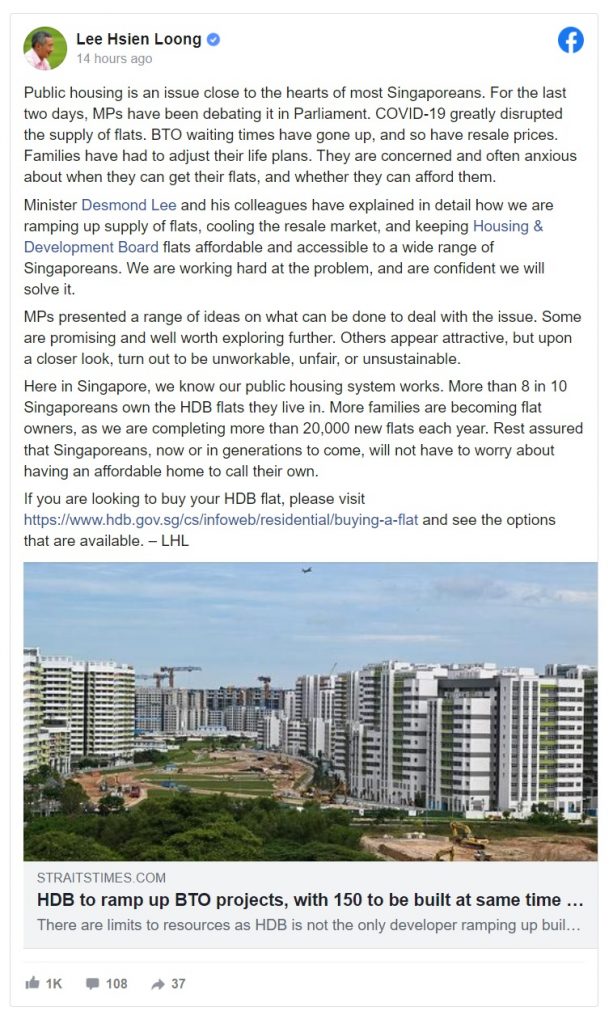 Who are these flats going to? There have been cases brought to light of empty HDB flats being listed for sale after it reaches its MOP. This means that the owners had somewhere else to stay and were just using their BTO as an investment.
Secondly, how many of these HDB flats are going to born-and-bred Singaporeans, and how many to new citizens? This would explain why we supposedly have more flats going around but many true-blue Singaporeans are still unable to get a house.
Most importantly, whatever their numbers say, they shouldn't ignore how Singaporeans really feel!