Monica Baey, 23, has become the new face of the #MeToo movement after she called out National University of Singapore (NUS) for the way in which they handled a peeping Tom.
Background
Monica, a third-year communications major, was taking a late-night shower in her hostel bathroom last November when she saw a mobile phone peeking from below the cubicle door. Before she could react, the phone disappeared and she heard whoever it was filming her dash out of the bathroom at NUS' Eusoff Hall. She then made a police report.
Investigations that followed
Following Monica's the police report, NUS also submitted to authorities 1) CCTV recordings showing a man, Nicholas Lim, entering the toilet that night, and 2) the video of Baey showering that was found on Nicholas' phone.
What is ridiculous is how light the punishment was for Nicholas' act –
the police gave him a 12-month conditional warning
the university suspended him for a semester, banned him from entering campus residences and made him send Baey an apology letter
The police explains that Nicholas was given a 12-month conditional warning because he was assessed to have a "higher likelihood of rehabilitation and was remorseful".
In the apology letter, he admitted to Monica that he was under alchoholic influence, and that he was "thoroughly sorry".
Monica's InstaStories
In a series of InstaStories on 18-19 April 2020, Monica shared her story, adding that "the point of (my post) is I want some real change in NUS … I want real consequences for perpetrators that commit such acts and I want to know that NUS will reprimand them seriously so other potential perpetrators know they will face punishment if they commit (such acts)."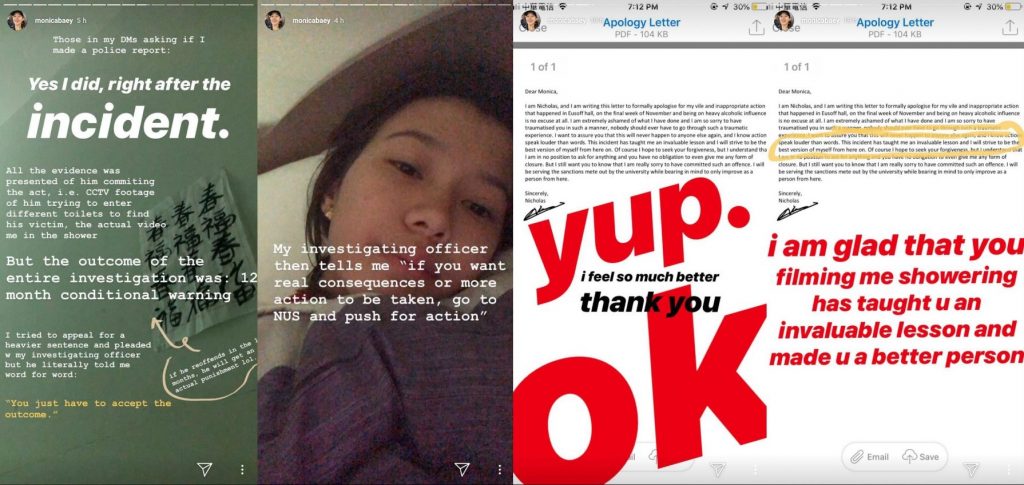 Reflections
Monica's InstaStories prompted the authorities (Min Ong Ye Kung, NUS, Nicholas' employer Great Eastern) to respond. This means that without her InstaStories the case would have been swept under the carpet, just like the many others before her. I mean, the very person that is supposed to have upheld the law, the investigation officer, told Monica that she should go to the university if she wanted "more action to be taken".
NUS and the police needs to take such cases more seriously. This is definitely not an isolated case. University students aren't kids anymore, the least they can do is to take responsibilities for their action. Whether or not they have a bright future ahead should not matter in this case, a crime is a crime. They should not be left unscathed and unmarked except for a mere 12 month suspension and an apology letter.