On arrival, the patient's bed was covered in hair from its previous tenant. Used ear buds, food wrappers and other trash were strewn around the room, and foul smell forced him to sweep and clean his area as best he could, with the limited tools available in the room. The charade of cleanliness and sanitisation that weighs so heavily on F&B, fitness and retail businesses in Singapore, does not exist in this government facility.
Rooms were dark and lit only by what sunlight permeates the structure. No lighting is provided during the day. No tables, chairs or personal lamp is provided. Beds are thin foam mattresses, with no blankets. Rooms are bare and filthy, with no apparent effort at cleaning or sanitisation between its tenants. Cold packaged food is delivered to the room and left on the floor at mealtime. Rooms are open air, with no doors.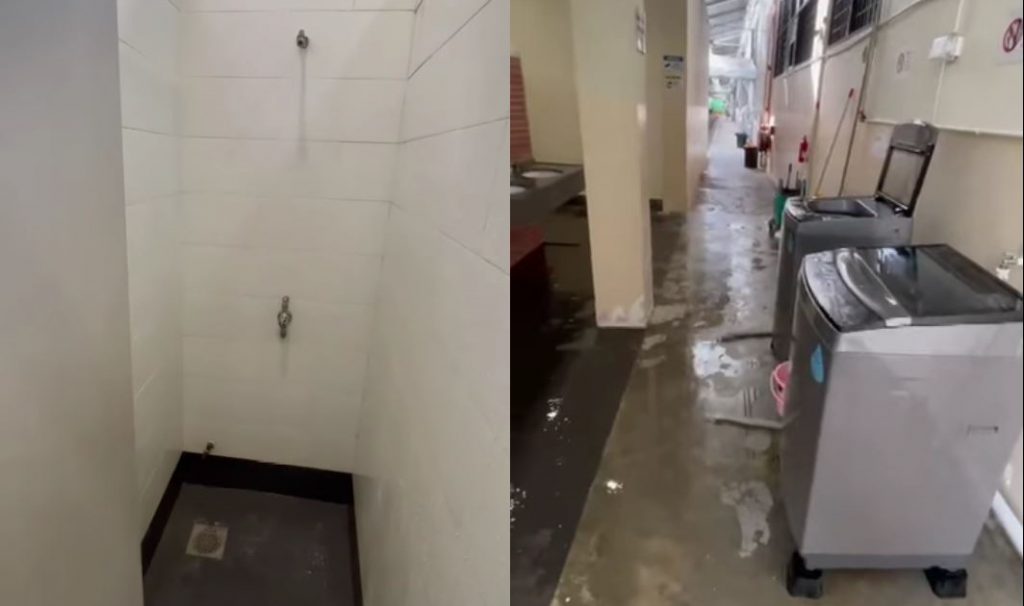 Toilet and shower facilities are perfunctory, at best, akin to wet market public toilets. 2 top load washers cater to what seems like more than a hundred of residents. To top it off, there is poor communication and mixed messages on discharge eligibility delivered to the residents, from different staff.
These are the shocking conditions of the Ang Mo Kio ITE quarantine facility seen in a video shown by a worker. The worker has been in Singapore for over 8 years on work permit and was sent to this facility after he caught covid from his Singapore landlord. Despite being fully vaccinated and having only mild symptoms, he was ordered to quarantine in this facility while his landlord was permitted home recovery.
The discrimination is obvious. Most of his roommates in the facility are foreign workers holding work permits.
In another video, mosquito fogging is being carried out on the premises. Fog permeates the open air room room, its inhabitants forced to sit in the smoke and breathe in chemical pesticides with no respite. In heavy thunderstorms such as the one we all endured yesterday, the lack of a door means rain falls halfway into the room, lightly spraying these men with rainwater for hours on end; with no blanket provisions they shiver on their beds.
The mood captured on these videos is depressing. Men of varying ages sit or lie in silence on their thin foam sheets, those lucky enough to have smartphones and headphones glued to the screen all day long, and those without, stare into space or try to sleep all day to pass time.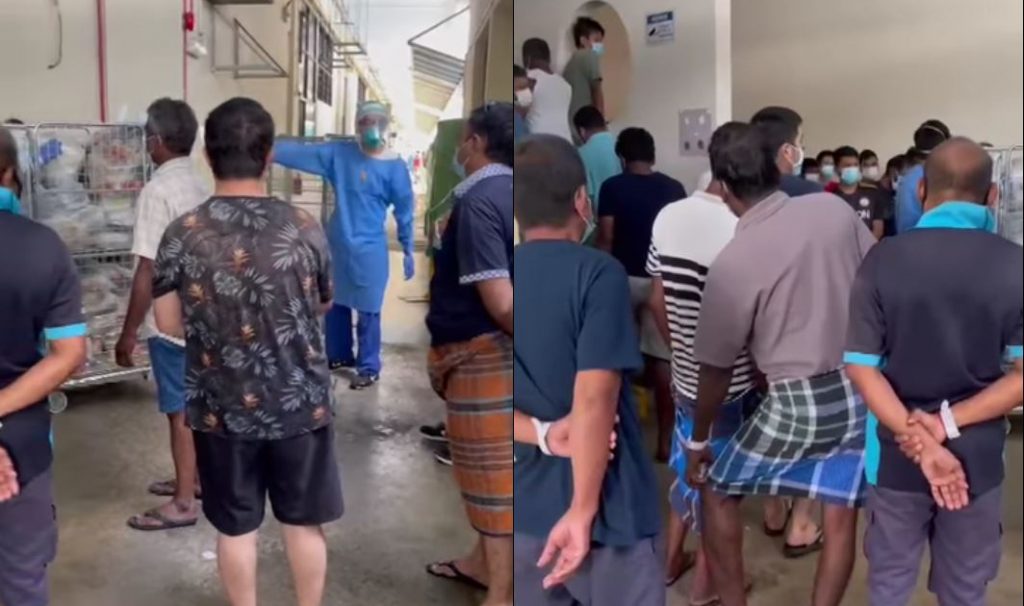 Staff dressed in full PPE herd large crowds of residents with seemingly non-existent safe distancing when moving around for tests or mealtime pick ups. "Line up, line up!" they snap at the crowd. In Singapore, sentences and pleasantries are reserved for those we consider to have dignity.
A dorm mate faints during a daily blood test. He hadn't eaten all day, and does not speak any English. The healthcare workers suggest in English that he eats one of the meals, without any concern for his comprehension, joking amongst themselves out loud that the food must not be good enough for him. Our worker friend helps carry him back to the room, and offers him a chocolate bar, which he readily gobbles down; he is relieved when color returns to his face.
This is what a friend of the worker experienced giving feedback to MOH:
I call MOH in an attempt to request his transfer to a different facility. "It isn't possible", Yanni informs me, "there is no discrimination here. Singaporeans, EPs, it doesn't matter what pass you are on, you will go to a CCF if you are not eligible for Home Recovery." I argue that ITE is not a facility any Singaporean would be sent to, but it is brushed off with no escalation agreed to, and my concerns on hygiene "will be internally fed back". In an effort to prove my point, I research other Community Care Facilities: Connect@Changi, D'Resort, Village Hotel, all offer hotel level accomodation with privacy and dignity. Even Singapore Expo with its dorm style layout is at least fully sheltered, with air conditioning and clean premises. It doesn't come as a surprise that he has not met a single Singaporean or EP holder in the ITE facility, his room mates are all from India or China, holding work permits. "Where do Singaporeans and white collar workers quarantine", he wonders to me. 

I relay my disappointment at the failed attempt for transfer or paid hotel quarantine. His response makes me want to cry: "I'm just a work permit holder, I am worried I will get in trouble if you raise the issue. Please don't worry, I have everything I need here." 

In my fury, I search google, reddit, facebook for commentary on the conditions of these facilities, wondering if anyone knows what they look like inside; the casual racism and discrimination their residents face. Wondering if there's any awareness. The only information I can find on quarantine online are luxury hotel premises for Singaporeans and expats, and MOM congratulating themselves on improving migrant dorm conditions when they have been locked down for 18 months. 

This is Singapore. And I am ashamed of it.

By Min Chan