Raffles Education (REC) CEO Chew Hua Seng paid himself nearly S$5 million for salary, bonuses and profit-sharing, according to a letter by tycoon Oei Hong Leong to the company's board.
On top of that, he paid his second wife Doris Chung Gim Lian almost half a million dollars and the sons of his first and second wives Chew Han Wei and Chew Han Qiang each received almost S$200,000. His first wife's daughter-in-law Christine Seojin Shin received almost S$100,000 from the company.
The letter also stated that this does not include the perks such as "wine, gifts, entire family holiday expenses all paid by the company in the name of company business".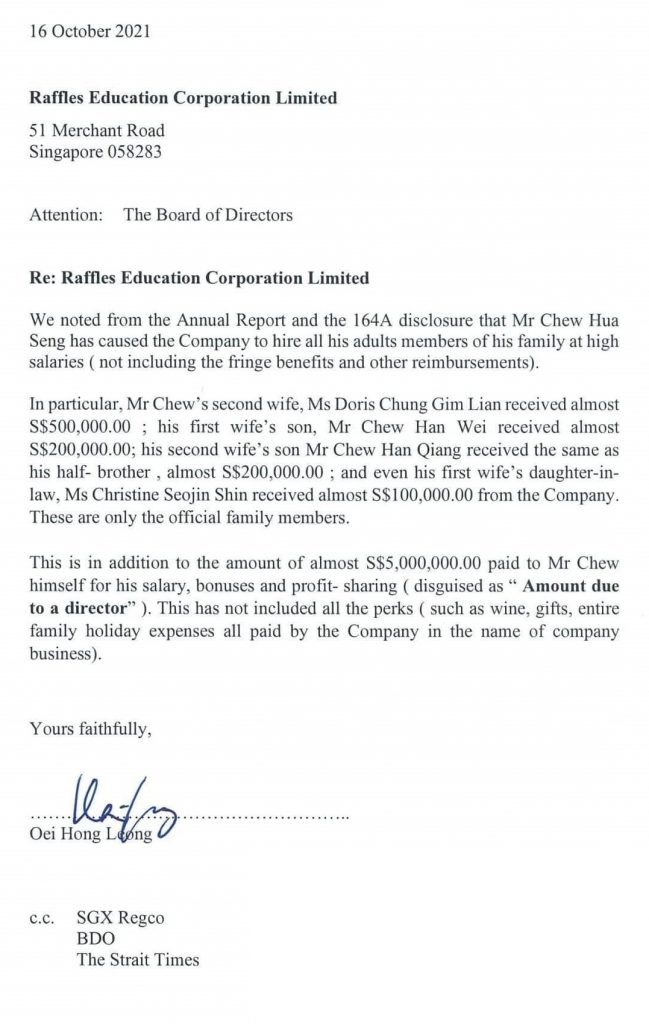 The letter caused REC shares to plummet 26% (2.1 cents), to close at 6.1 cents on 18 Oct.
Relationship between Oei and Chew
Oei and his company Oei Hong Leong Art Museum are the second largest shareholders in REC after the Chews.
Oei and Chew were former good friends for about a decade and even went on holiday with their wives together a couple of times.
However, the two fell out after Raffles Education announced on 28 Sep 2017 that it would issue up to 95 million new ordinary shares at 30 cents per share.
Oei subsequently tried unsuccessfully to sue Chew over allegedly going back on his promise to procure a buyer for Oei's shares in REC. Oei had relied on a handwritten note signed at a dinner meeting at his sister's house in 2017 which was not a legally binding agreement.
Case of Corruption?
Is this a case of corruption exposed by a fallen-out business partner? A case of revenge?
Regardless of whether Oei has a personal vendetta against Chew, the question stands: Is it fair to pay such large amounts of company money to family members? Should an education business be run this way?
The letter has exposed how Raffles Education's funds have been mismanaged. If the disclosure is verified to be true, swift action should be taken against its founder and the persons involved.