On June 10 2022, it was announced that the Government's sports statutory board, SportSG will be taking back full ownership and management of the Singapore Sports Hub later this year from December 9.
This means the effective termination of the private-public partnership project agreement (PPP) between SportSG and the private consortium Sports Hub Pte Ltd (SHPL), which initially began in January 2008 with its successful bid to rebuild the former Kallang National Stadium into its current enlarged Sports Hub format with a bigger stadium.
SportSG will be paying an undisclosed termination fee as agreed under the contract terms, and work closely with SHPL over the next few months to facilitate retention of experienced personnel and smooth transition of operational responsibility for minimal disruption.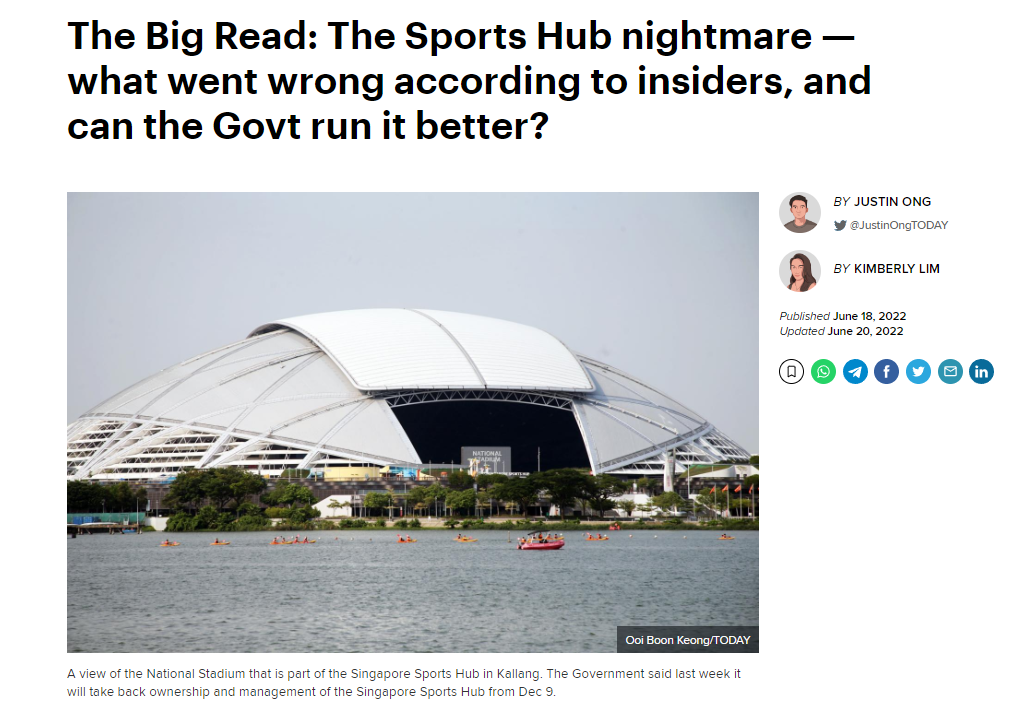 Interestingly, TodayOnline carried an investigative analysis article a few days later on June 18. Titled "The Sports Hub nightmare — what went wrong according to insiders, and can the Govt run it better?", it documented the insights and opinions of several current and former SHPL insiders on the entire project partnership between the private consortium and SportSG.
Substantive portions of the article revealed multiple issues that surfaced throughout the entire PPP, most of which largely involved various levels of conflicting interests and priorities not just between SHPL and SportSG, but even between the different stakeholders within SHPL itself.
"It's All About The Money, Money, Money~"
A key sentiment expressed in the article was about how the focus on individual profit took over everything that was supposed to be collaborative about the running of Sports Hub and the events it hosted by SHPL's stakeholders.
The six major subcontractors involved in day-to-day operations not only had their own key performance indicators set by SportSG to fulfill, they also had to take into consideration SHPL's and their own individual profits and losses too.
Being capitalistic private companies, it was inevitable that the various individual stakeholders within SHPL all ended up "acting like vendors" focusing on their own financial profit pathways with little consideration given to the greater goals of the consortium, or the PPP with SportSG to provide the Sports Hub as a general public sports facility to Singapore.
For example, in 2015 SHPL tried to charge the Government $26 million for leasing the Sports Hub National Stadium for 35 extra days of National Day Parade rehearsals. This sum was lowered after negotiations to a "mere" $10 million. That same year, Singapore Athletics was asked to pay $600,000 should it wish to use the new stadium to host the Asia Masters Athletics Championships, so as to convert the 55,000-capacity stadium from "football mode" to "athletics mode". Ultimately, Singapore Athletics chose to use Bishan Stadium as the venue to host the event instead.
Too Many Stakeholders, Too Few Unified Leaders
This should come as no surprise to individuals who are familiar with the way the Singapore Government, its statutory boards, and even how its GLCs work. There is often little distinction made between the provision of public or private goods and services, and a headlong rush into endless outsourcing be it directly through contract tenders or so-called "public-private partnerships" that are anything but what their names imply.
In the case of the Sports Hub, the lack of representation and visibility of SportSG and by extension the Government resulted in financial returns being prioritised over other issues such as the international reputation of the Sports Hub for hosting sporting events, or other community-centred goals like making the Sports Hub facilities more freely accessible to the general public.
Call it unconscious "slip of the mind" or a conscious decision by the Government to outsource responsibility and leadership of public goods projects to private companies with minimal oversight, the result was still the same: a rudderless PPP framework where there was no partnership, and no unified focal point between all stakeholders for the ultimate public good purpose of the Sports Hub.
The Grand Old Dame and her Lesser Successor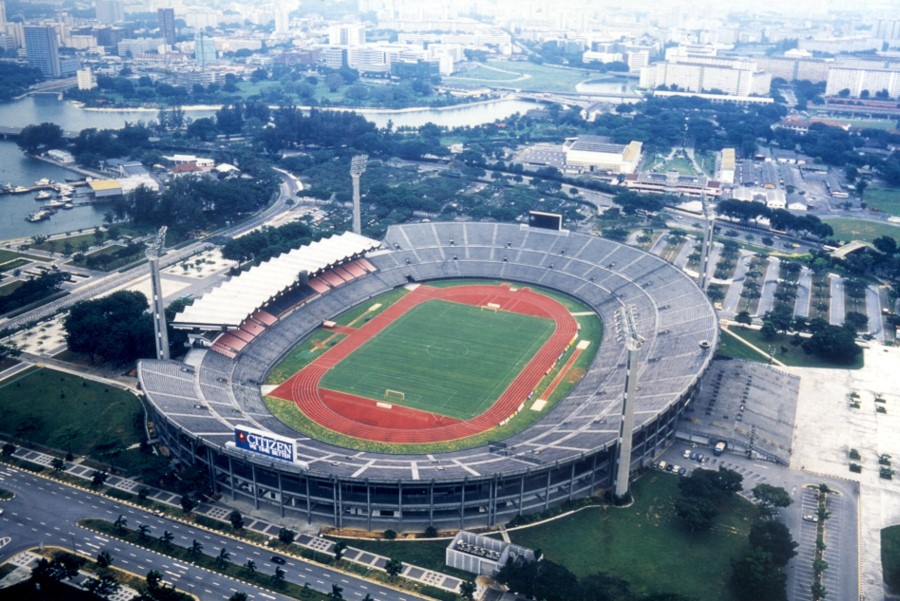 The old Kallang National Stadium is fondly remembered in Singapore's history as being a national sporting venue that not only played host to various landmark events such as the annual National Day Parades and various high profile regional/international sporting events, but also a truly accessible venue for general society to utilise and enjoy for nominal fees (50 cents for joggers to use the running track for example). This was largely down to its full ownership and management by the Singapore Sports Council (forerunner to SportSG).
In contrast, the new Sports Hub has proven to be a huge white elephant. Gatekept by exorbitant fees charged by its private consortium management, the Sports Hub is currently a blight on Singapore's sports scene and national history, failing to replace or even come close to matching the prestige and national significance of Kallang National Stadium which it replaced.
This point is most poignantly driven home by how the new Sports Hub National Stadium has only ever hosted one National Day Parade since completion (in contrast to 18 at the former Kallang National Stadium), and has ultimately been deemed even less suitable to host NDP events than the Float @ Marina Bay (which was supposed to be a temporary fixture that has instead turned into an integral part of Singapore's sporting and national history).
Public Subsidies, Private Profits?
And what was the cost of this "white elephant" that is the Sports Hub? According to public information, the Sports Hub cost $1.33 billion to build. Since its completion, the Government has been paying $197.3 million in taxpayer monies to SHPL, annually for the past 8 years under the PPP framework. This is hardly a justifiable sum of public funds to be paid to a private consortium for the amount of national events held at the Sports Hub or the new National Stadium, especially when a former SHPL senior executive estimated that between 2014 to 2016 the Sports Hub was enjoying a profit margin of 7 to 13%.
How much of these "private profits" came from government subsidies using taxpayer monies, nobody knows. It should also surprise nobody that it was Minister Vivian Balakrishnan of YOG overspending infamy who signed off on the payment sums under the PPP, back when he was still Minister for Community, Youth and Sports.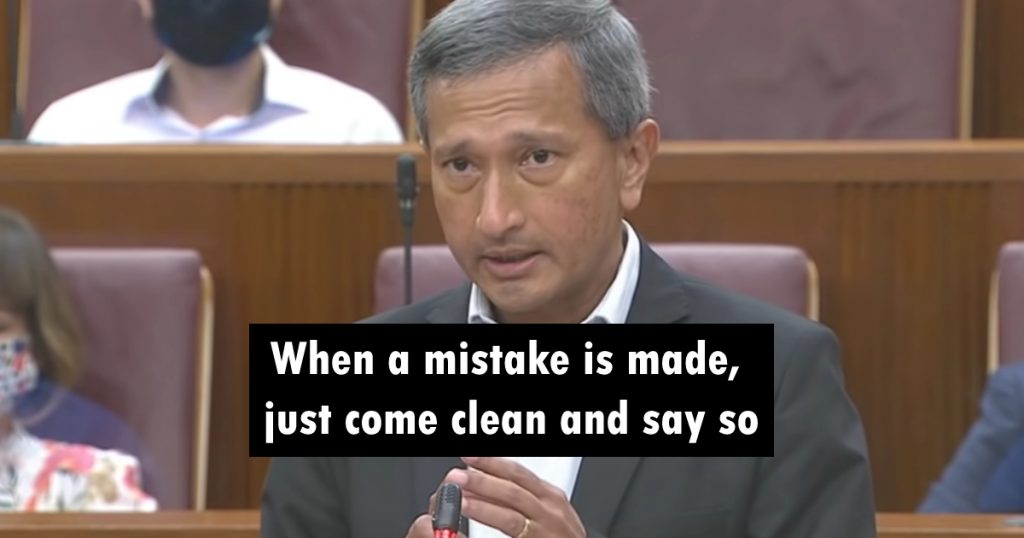 Rare is the occasion that investigate journalism to such a cutting degree exists in Singapore on Singaporean affairs, particularly when the government is involved in some form.
TodayOnline's article on the collapse of the Sports Hub's private-public partnership with the Government is to be commended for shedding light on the various issues and blind spots in the wider scope of dynamics between private sector businesses and the government in Singapore, where a slavish belief in being pro-business, profit-maximising, and responsibility-minimising ideologies by our national leaders have often led to wasteful spending of public monies and structural inefficiencies in various industries.