Zaid Malek from Malaysian NGO Lawyers for Liberty has been an advocate for Malaysians on death row in Singapore. On 4 July 2022, he was in Singapore to provide assistance and advice to Kalwant Singh's family. However, upon his arrival, he was instead harassed and intimidated by Singapore Police Force and served 2 warning letters for contempt of court.
---
𝐒𝐓𝐀𝐓𝐄𝐌𝐄𝐍𝐓 𝐎𝐍 𝐌𝐘 𝐃𝐄𝐓𝐄𝐍𝐓𝐈𝐎𝐍 𝐀𝐓 𝐒𝐈𝐍𝐆𝐀𝐏𝐎𝐑𝐄 𝐀𝐈𝐑𝐏𝐎𝐑𝐓 𝐁𝐘 𝐈𝐌𝐌𝐈𝐆𝐑𝐀𝐓𝐈𝐎𝐍 𝐀𝐔𝐓𝐇𝐎𝐑𝐈𝐓𝐈𝐄𝐒 & 𝐈𝐍𝐓𝐄𝐑𝐑𝐎𝐆𝐀𝐓𝐈𝐎𝐍 𝐁𝐘 𝐒𝐈𝐍𝐆𝐀𝐏𝐎𝐑𝐄 𝐏𝐎𝐋𝐈𝐂𝐄 𝐅𝐑𝐎𝐌 𝟒𝐓𝐇 𝐓𝐎 𝟔𝐓𝐇 𝐉𝐔𝐋𝐘 𝟐𝟎𝟐𝟐
I arrived at Seletar Airport, Singapore on Monday 4.7.2022 at around 2.15pm. I had come to Singapore to assist and provide legal advice to the family of Malaysian death row prisoner Kalwant Singh. Kalwant Singh was scheduled to be executed at Changi prison on Thursday 7th July 2022.
Upon producing my landing card and passport at the immigration counter, I was not processed through as usual. Instead, I was asked to wait by the immigration officer, with no reasons given.
I was made to wait for about 4 hours and not allowed to leave. Despite repeated queries during this period, I was given no explanation.
Around 6pm one ASP Desmond Ng from the Special Investigation Section of the Singapore CID arrived. He and immigration officers took me into a room and served a notice upon me to compel me to be present at the Police Cantonment Complex on 6.7.2022 to be investigated for the offence of Contempt of Court over a statement issued by Lawyers for Liberty, of which I am a Director, regarding the plight of Malaysian death row prisoners in Singapore. I was warned not to leave Singapore until police completed the investigation.
On 6.7.2022 at around 10.00am, I went to the Police Cantonment Complex for the investigation. Here I was served with another notice, alleging that I had committed the offence of contempt of court by issuing a statement in Malaysia that was published by Malay Mail on 14.2.2020. The statement was regarding comments I made about the dismissal of suits filed by the Malaysian death row prisoners Gobi Avedian and Datchinamurty Katiah.
I was interrogated for two and a half hours, during which detailed questions were asked about the organisational and other details of Lawyers for Liberty. At about 12.30pm I was released and told that I would be summoned for further questioning later that same day. I was again warned not to attempt to leave the country.
Later that night, around 8.30pm, I received a call from ASP Desmond directing me to return to the same police complex. Upon arrival, I was taken to the room of Superintendent Roy Lim, Head of the Special Investigation Team.
Supt Roy Lim told me that their investigations had found that I had committed an offence of contempt of court.
This offence was punishable with imprisonment of 3 years or a fine of up to $100,000.
At this point, Supt Roy Lim served upon me 2 letters. The first was a Conditional Warning issued to me personally warning me that I had committed the offence and ordering me to 'refrain from any criminal conduct for a period of 24 months' failing which I would be charged in court. The second letter was in the same terms and directed to Lawyers for Liberty.
In total I was subjected to about 4 hours of detention at the airport about 3 and a half hours of interrogation at the police complex.
As a result of this police probe against me from 4th to 6th July 2022, I was obstructed and hampered in assisting and advising Kalwant Singh's family during the crucial days before his court hearing and execution. I had informed ASP Desmond at the airport that this was my purpose in coming to Singapore. Despite this the police kept me for long hours at the police complex for investigation.
My detention and interrogation were acts of calculated intimidation and harassment by the Singapore authorities against me due to my work in representing Malaysian death row prisoners and speaking out against the injustices involving Malaysian prisoners in Singapore's death penalty regime. The actions of the authorities against me prevented me as a lawyer from properly discharging my duties to my clients.
What is also serious is that I was being detained and probed over a statement issued in Malaysia, and not in Singapore. By doing so, the Singapore authorities are now dangerously claiming extra-territorial jurisdiction over Malaysian citizens making statements on Malaysian soil.
ZAID MALEK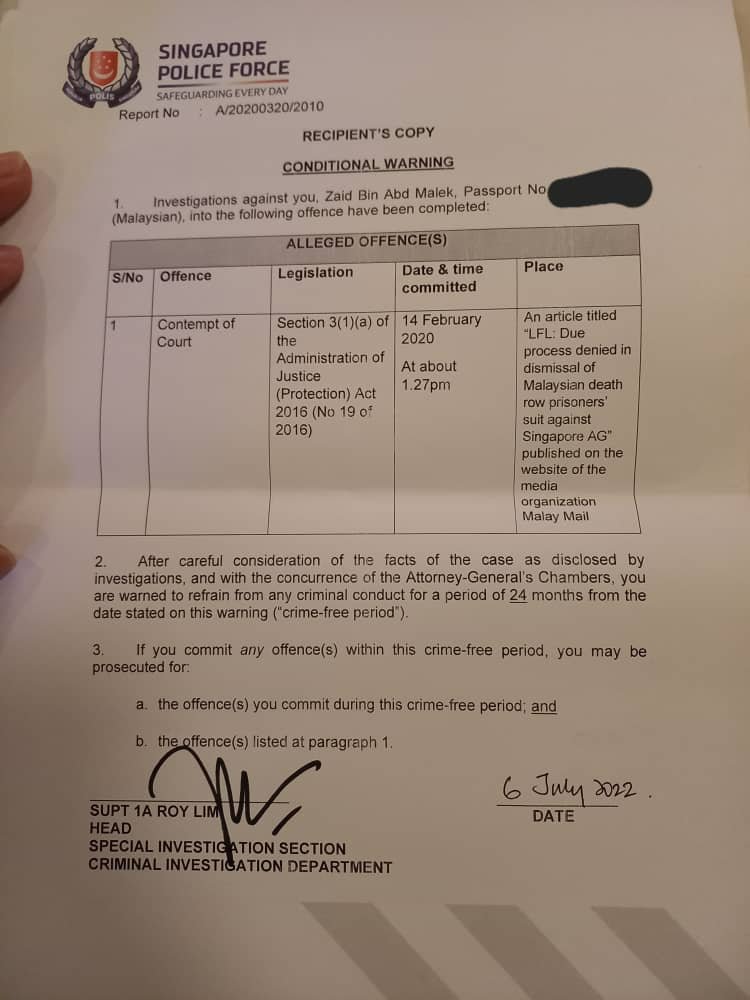 Source: Zaid Malek's Facebook