Just yesterday (28 Apr), a death row prisoner due to be hanged this week for drug trafficking won a last-minute reprieve from Singapore's Supreme Court. Datchinamurthy Kataiah (Datch), 36, was scheduled to be hanged Friday (29 Apr), just two days after the execution of Nagaenthran K. Dharmalingan.
What happened?
On 25 Feb 2022, Datch and 12 other death row inmates filed their case (HC/OS 188/2022) against the Singapore government for various declarations and damages. They also sued the Singapore Prison Service for their illegal disclosure of private prison correspondence to the Public Prosecutor's office. The hearing was fixed on 20 May 2022.
The above is the basis of Datch's appeal when he was told on 21 Apr 2022 that he would be hanged 8 days later. Citing unfair treatment compared to the other 12 inmates, Datch sued the government to stop his execution. At this time, no lawyers wanted to represent him, so he had to represent himself.
He had to argue his case on his own, with no one around to help him. Yet he manage to persuade the judge to grant him a stay of execution.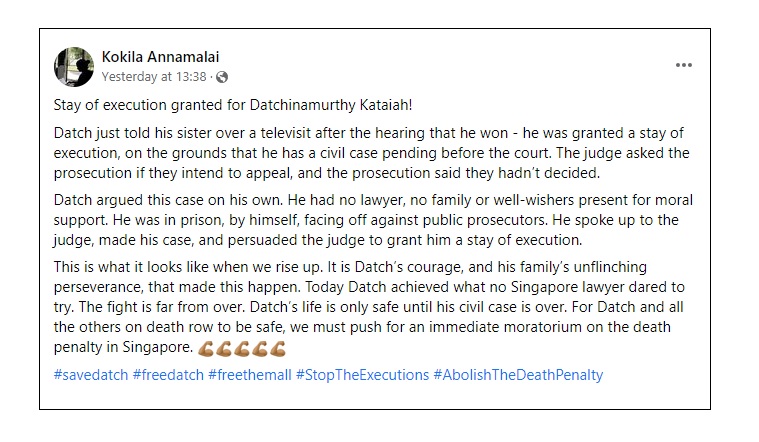 The good news was almost relinquished when the Attorney-General's Chambers (AGC) decided to file an appeal against the decision. They arranged for a hearing immediately on 28 Apr at 2:30pm. Thankfully, the supreme court dismissed the appeal.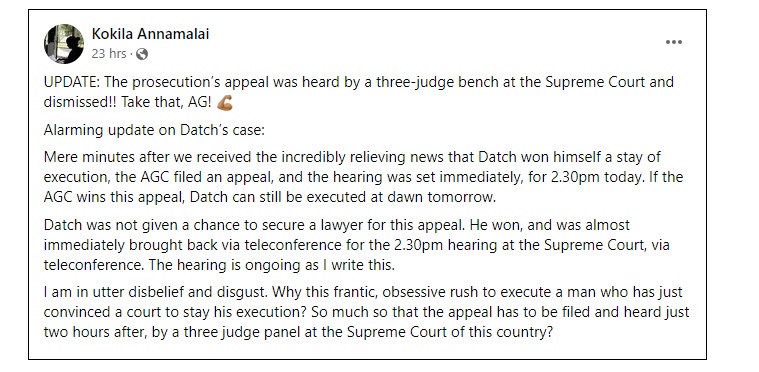 Judge says that once Datch is executed, it would be too late to call him back.
The 28 Apr hearing took place at the Court of Appeal. There was a panel of three judges – Andrew Phang, Judith Prakash and Belinda Ang. Appearing for the AGC (the government) were Deputy Senior State Counsel Yang Ziliang and State Counsel Pavithra Ramkumar. Datch once again represented himself.
Fortunately, the three judges were in favor of Datch's reprieve. This was their main reason –
"Context is everything. We don't know the consequences. What if from the testimony of the other 12, we learn that Mr Datchinamurthy had a case? It would be too late to call him back. Once he is executed, it is the end, as far as I know. Are you willing to make the argument, knowing that that is the consequence."

Justice Andrew Phang
This is an unprecedented case, it definitely restores some faith in our justice system. However, it is not the end, we still have a long way to go.
You can read an account of the hearing by Too Xing Ji here.