In the past week, the Ministry of Home Affairs (MHA) issued letters to nine people requiring them to apologise and correct their statements which quoted a Mothership article. The Mothership article reportedly misrepresented what Shanmugam said.
The nine letters were issued to –
Lawyer and opposition party leader Lim Tean
Film-makers Martyn See and Lynn Lee
Mr Andrew Loh, former editor of The Online Citizen
Journalist Kirsten Han
Writer Julie O'Connor
Activists Jolovan Wham and Kokila Annamalai
FB page Wake Up, Singapore
What Did Shanmugam Say?
Shanmugam was speaking in Parliament on Oct. 5, following his wrap-up speech on the Foreign Interference (Countermeasures) Act. He said the rule of law is fundamental for Singapore and its success, he also said that there are some countries around the world "where rule of law is a concept for lawyers, but it does not operate in the real world".
The Mothership article that was subsequently quoted by the 9 parties misrepresented Shanmugam by implying that he said the Rule of Law does not apply to Singapore.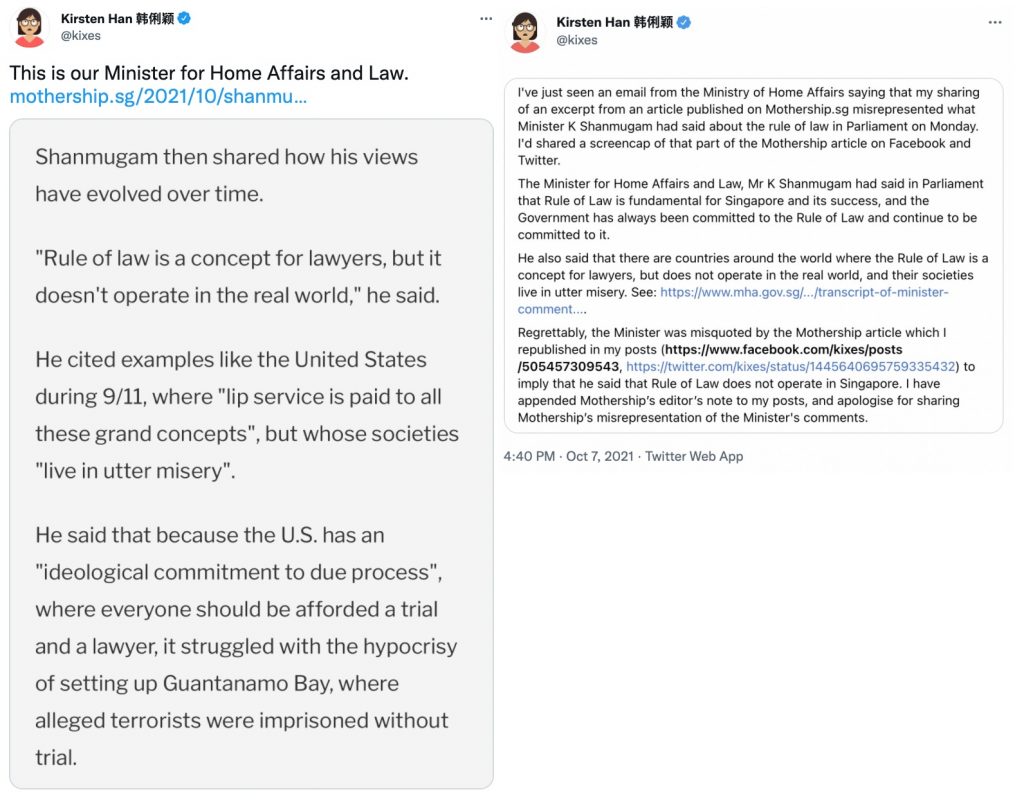 Most of the above individuals have already issued corrections to their posts, even if they were directly quoting from the Mothership article that made the mistake in the first place.
Mothership not listed in the 9 asked to apologize
Following the incident, mainstream news reports that MHA issued letters to the 8 individuals and 1 FB page. Even though the 9 entities were merely quoting from Mothership, Mothership was not included in the list.
Mothership is known to be well connected to the PAP, often publishing news under the PAP's directions. In a Facebook post, blogger and activist Roy Ngerng noted that this is another case of an abuse of power.
"do you see now how Mothership is now not even issued a POFMA order even though others who shared the article it wrote were issued POFMA orders?"

Roy Ngerng
According to Roy, this made it clear how POFMA is predominantly used to target the opposition, independent media and activists. On the other hand, politicians or media connected to the PAP are usually not targeted even if they publish clear and blatant falsehoods.
"An independent media who reports on news is issued POFMA, while a media entity connected to the PAP is not issued POFMA for spreading falsehoods determined by the ministry."

Roy Ngerng
In a sly twist of words, the narrative brought forward by the mainstream media is that the 9 individuals misrepresented Shanmugam.
How can we trust a government who is not fair about how they make use of such laws? They say that POFMA and FICA are supposed to protect Singaporeans, yet thus far they have only been using it against Singaporeans.