The Hougang resident who has a neighbour from hell caught him in the RSAF uniform. However when she wrote in to Mindef, they were not willing to investigate him.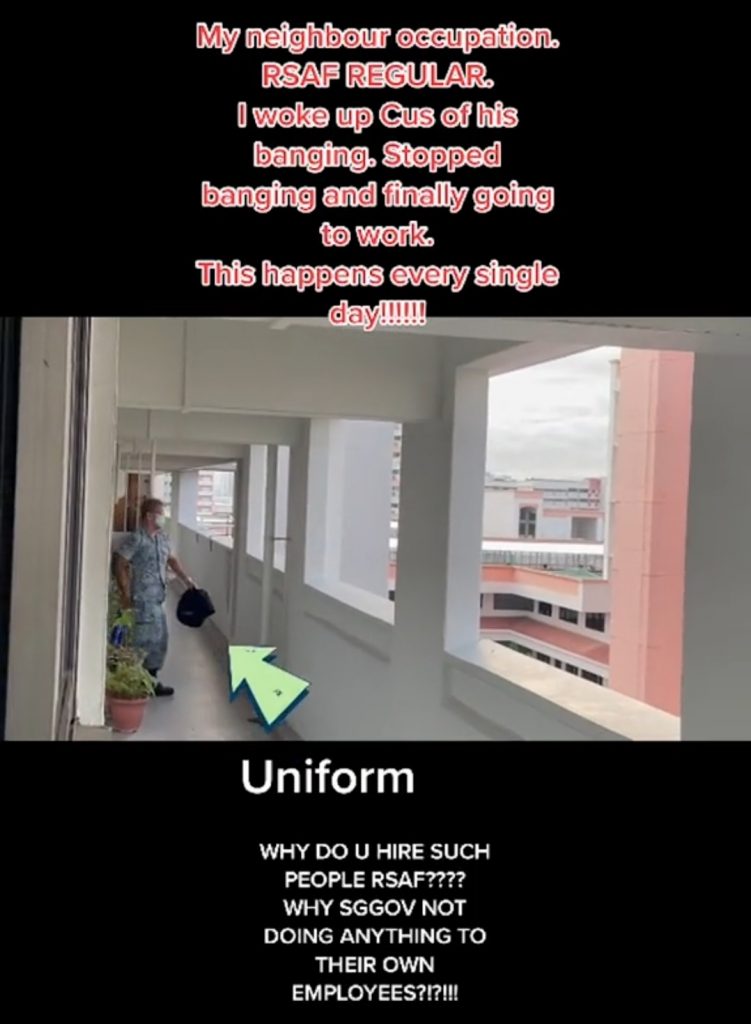 Neighbour From Hell
The woman, known by her surname Tang, has been living at Blk 552 Hougang Street 51 for over 15 years with her parents and elder brother. The neighbour is in his 30s and lives with with his mother. His father passed away a few years ago.
Since 2010, the two families have been on bad terms after the neighbour accused the woman's family of making noise, playing with marbles and stomping on the ground. Hoping to settle things, the woman's parents apologised to the neighbour and soundproofed their unit.
However after a few weeks, the neighbour started to harass the woman's family.
Neighbour's antics
The neighbour would bang on things loudly all day and night and shout vulgarities at the woman's unit. He was also caught on CCTV damaging their plants and kicking their shoes.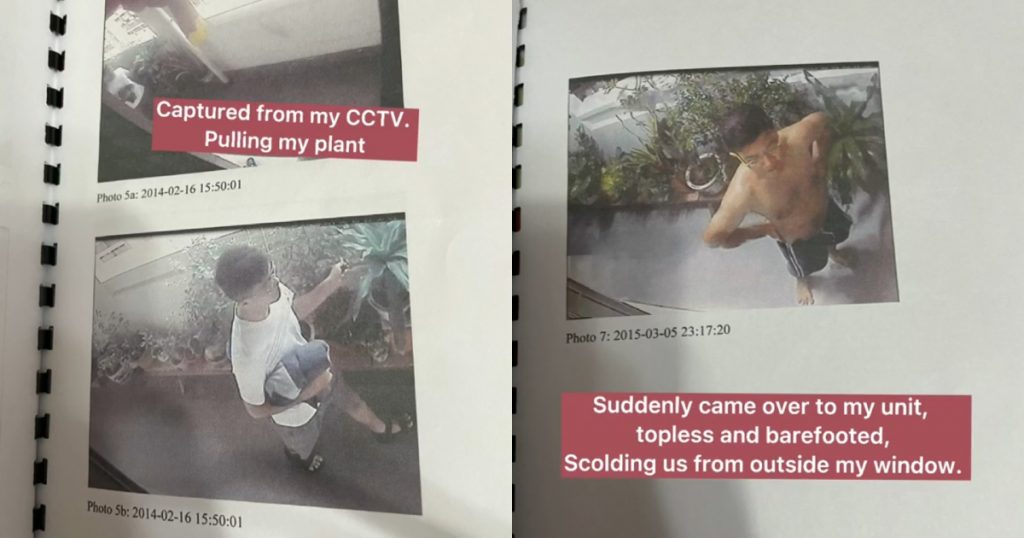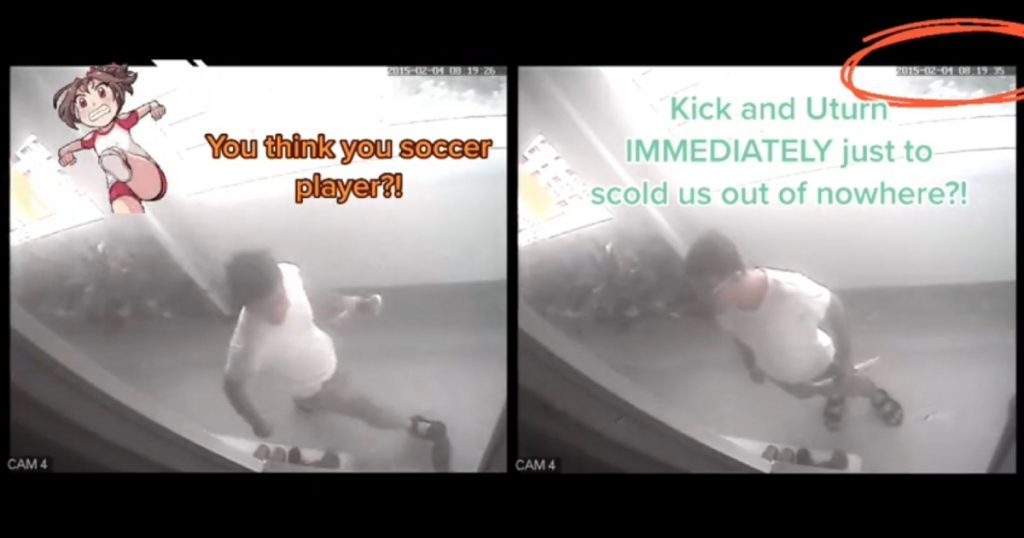 He even called the police and SCDF to come down because he claimed there were some smells coming from the woman's unit. HDB and town council also verified there was no smell coming from her unit but there was an ammonia smell coming from the neighbour's unit instead.
Nothing Worked
The woman resorted to posting tiktok videos on her neighbour when she has exhausted all options to seek resolution.
CMC and HDB
Her attempt to solve the problem through the Community Mediation Centre (CMC) and HDB was unsuccessful because the neighbour had been uncooperative in the dispute mediation.
Magistrate Complaint
When she lodged a magistrate complaint to the State Courts, she was told she did not have enough evidence.
Prime Minister
She has even written to PM Lee Hsien Loong but she got a reply from police that they cannot do anything.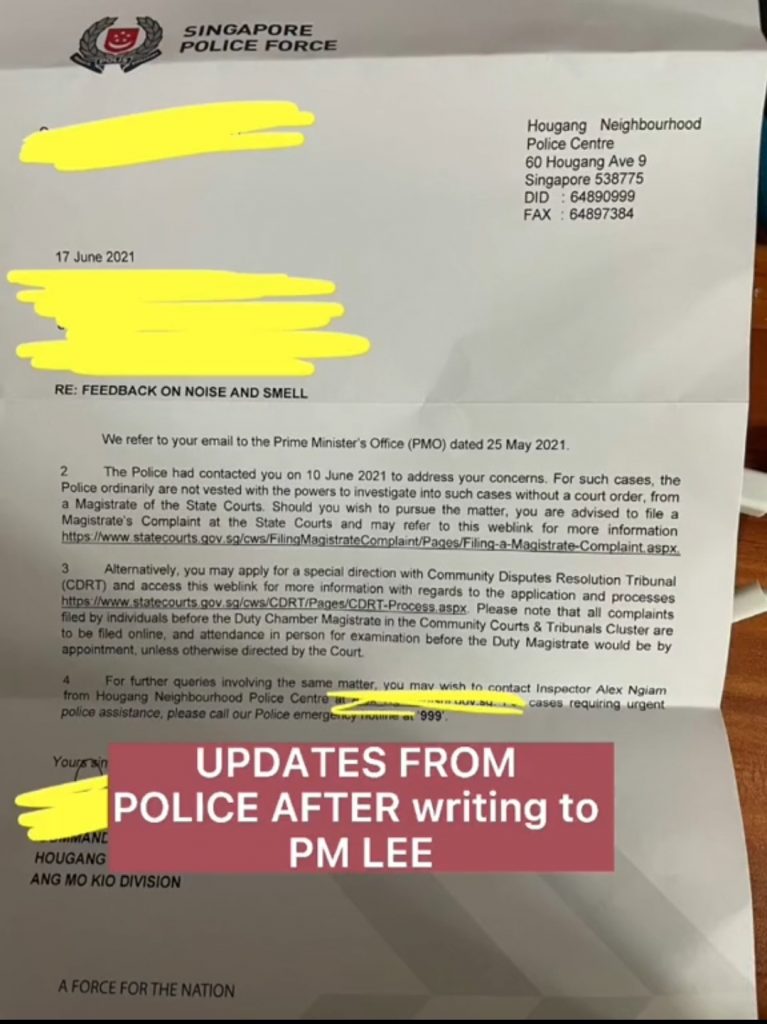 Ang Mo Kio MP Darryl David
The woman also emailed her MP Darryl David but he replied that the authorities cannot do anything because the neighbour "has not broken any laws or committed any offence". He said he would ask HDB to try to advise the neighbour. Obviously it did not work.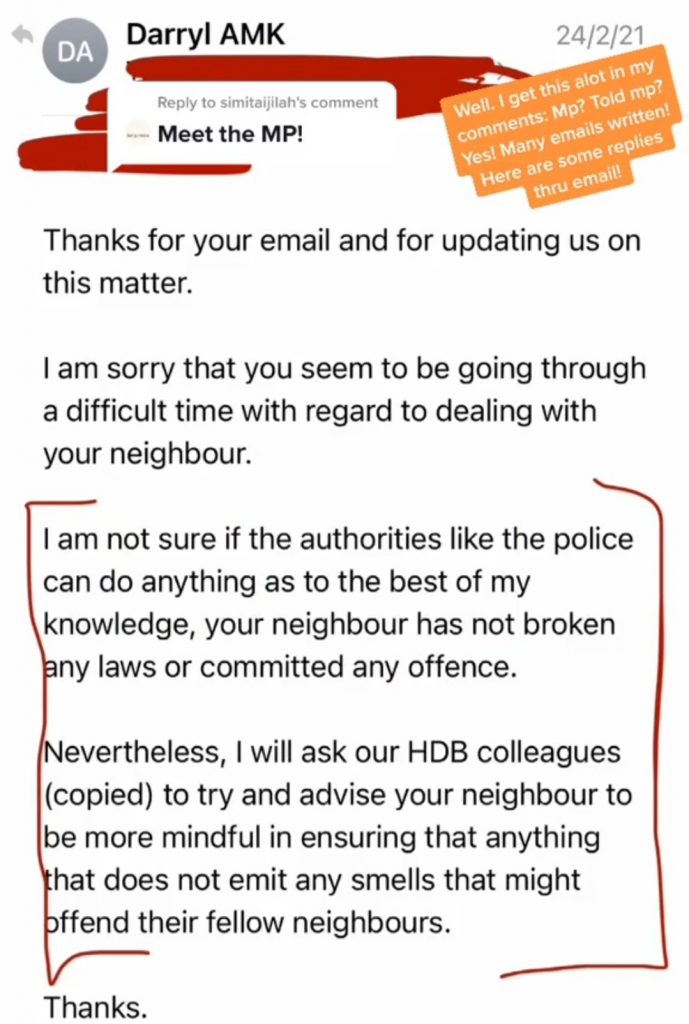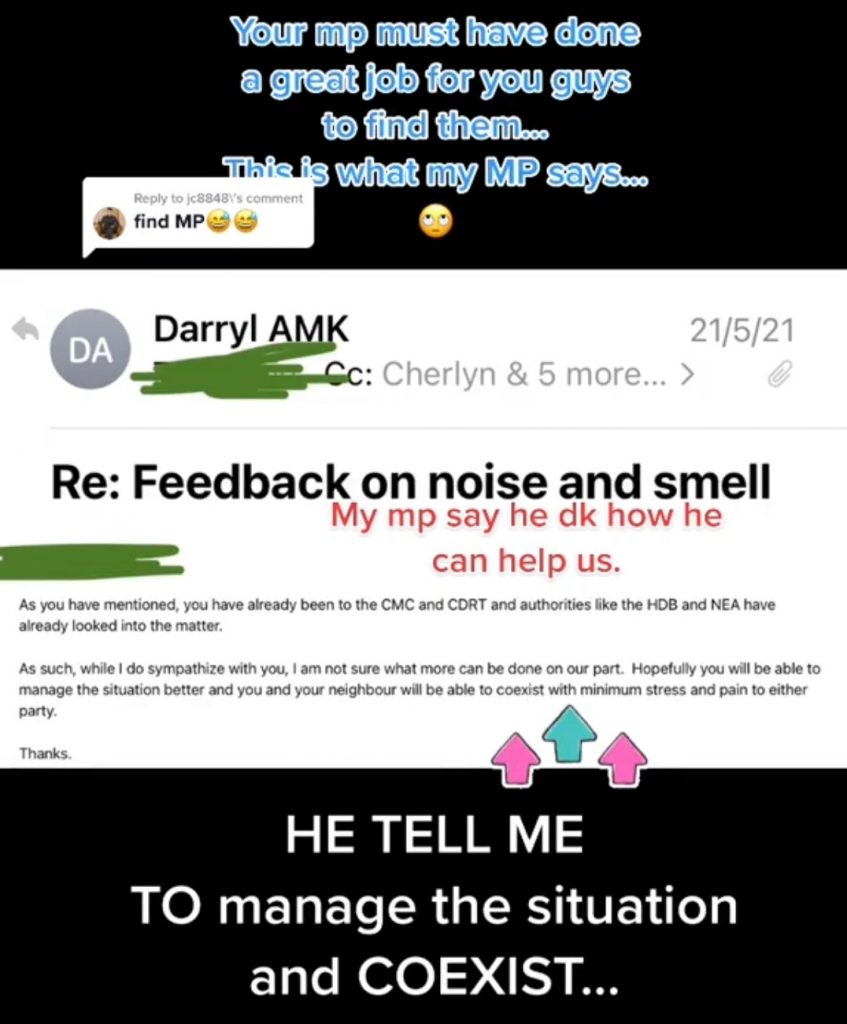 Mindef
When she emailed Mindef, they replied that it is a private matter and they cannot assist.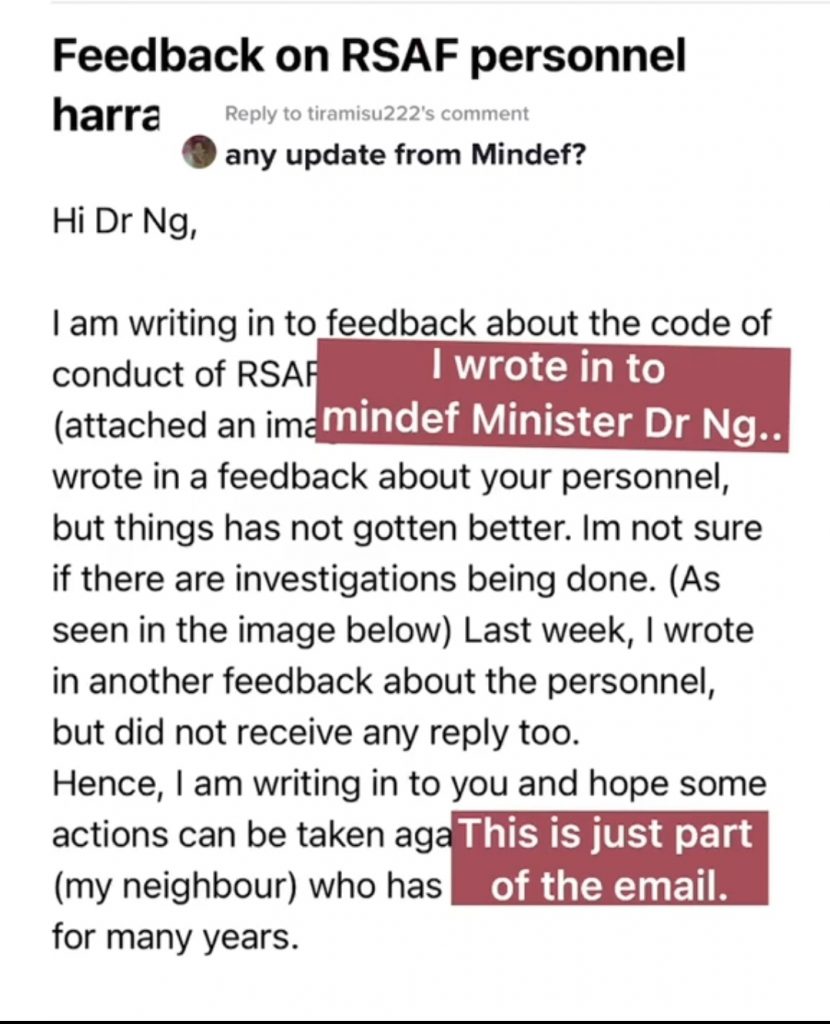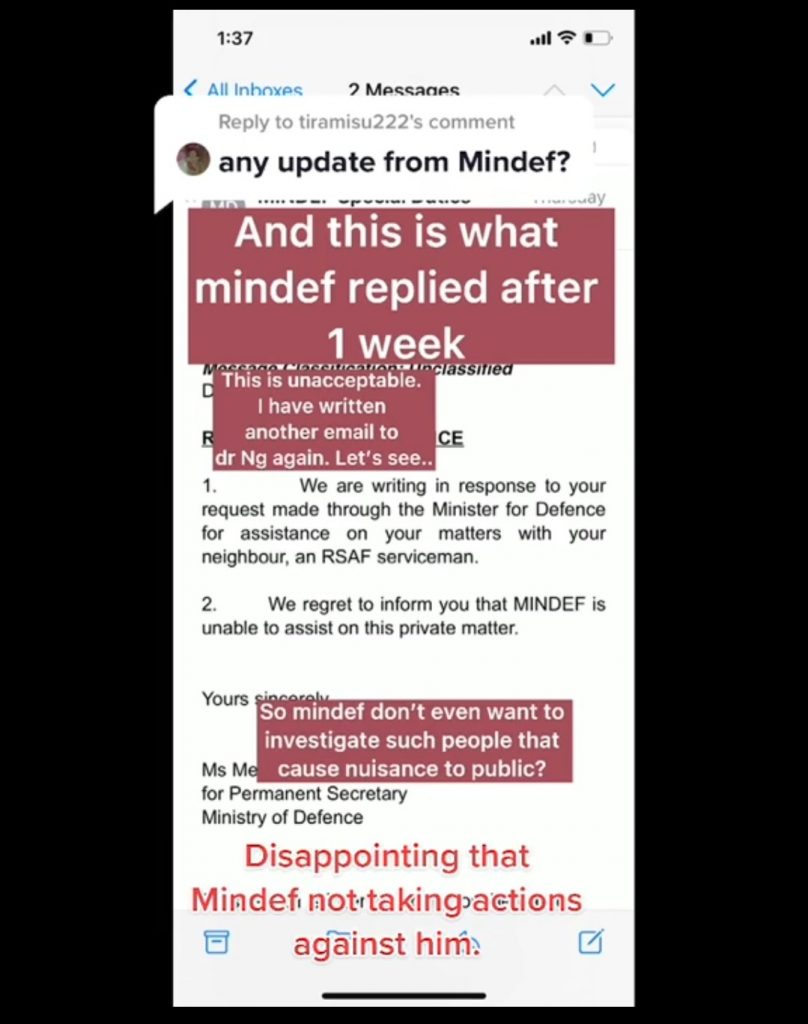 Hello Mindef, is this guy ok or not? Why is this not Mindef's concern that your air force regular is behaving like he has anger management issues and no respect for others? Is this kind of character acceptable? Does he think that being in RSAF gives him the license to be rude to others?