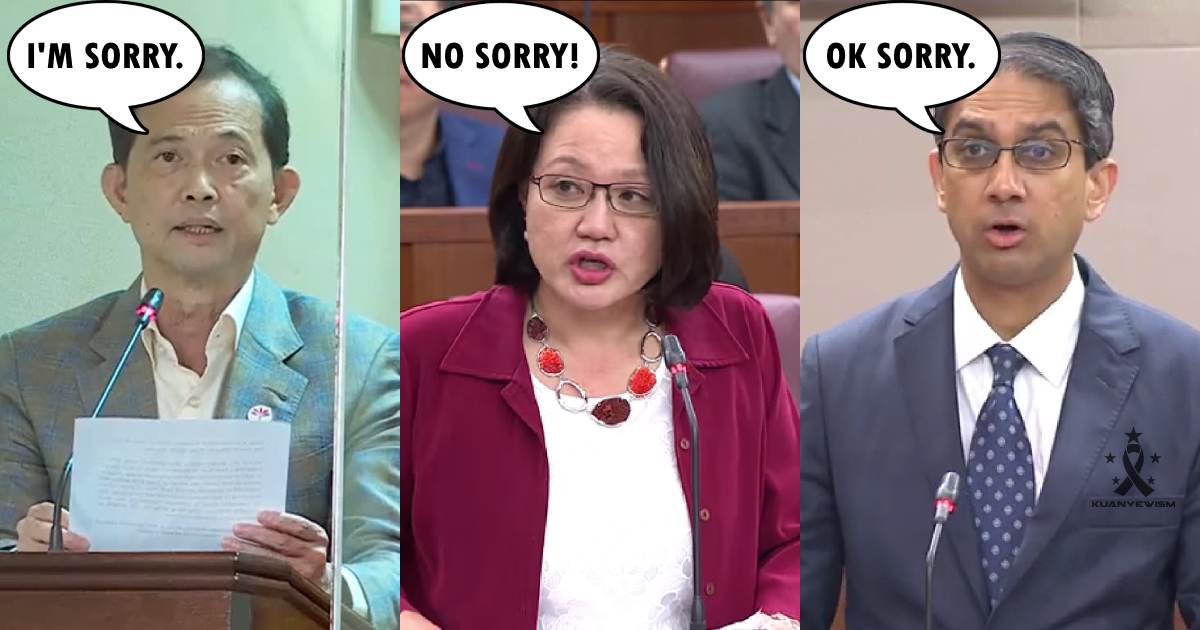 PAP Likes to Make Opposition MPs Apologise
The PAP has asked several opposition MPs to apologise in parliament for their statements. Here are some of them.
The latest victim was PSP's Leong Mun Wai who is a Non-Constituency Member of Parliament. The Deputy Leader of the House Zaqy Mohamad asked Leong to apologise for Facebook posts that "impugned" the Speaker.
1. Leong Mun Wai Says Sorry
During the debate on MOM's budget, Leong Mun Wai wanted to ask clarifications but Speaker of Parliament Tan Chuan-Jin denied his request to do so. Leong Mun Wai said the Speaker used the "time limit" as an excuse to cut him off. Because of his "dishonorable" Facebook posts on this, Leong Mun Wai must give an apology in parliament.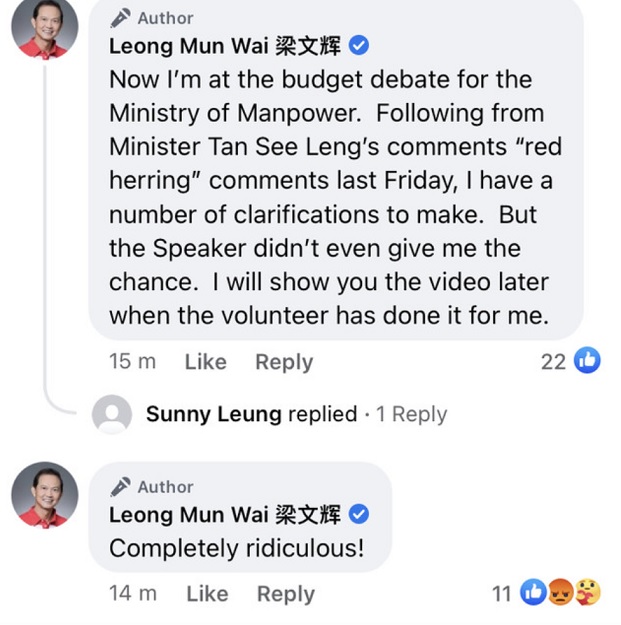 Leong Mun Wai subsequently apologised and removed the Facebook posts and Zaqy Mohamad was satisfied with the apology.
2. Sylvia Lim Not Sorry
Another MP who was asked to say sorry to parliament was Sylvia Lim. In 2018, Leader of the House Grace Fu requested WP MP Sylvia Lim to withdraw her claims about GST test balloons and apologise to the government.
Sylvia Lim said she suspected the Government wanted to introduce a GST hike immediately but backed down after the test balloons it floated got a negative response. She added that the Government was "stuck" when people noted then Deputy PM Tharman Shanmugaratnam and other leaders had previously said it had enough money till the end of the decade.
When she said this, many PAP MPs were triggered and called for Sylvia Lim to retract her comment.
Grace Fu said that it is not true that the government floated GST test balloons. She said the government has always said that it had enough funds for the current term but would need to increase tax for growing spending.
Sylvia Lim refused to withdraw her statements and said she will not make an apology. She said she had basis for her suspicions and it is her role as MP to raise them.
"I will not apologise to this House because I believe that I was doing my duty as a MP in the constitutional role that we were elected into, to give the Government the forum to account to the people. And for that, I make no apology."

Workers' Party MP Sylvia Lim
3. Leon Perera Asked to Apologise
Another WP member Leon Perera (NCMP) had to apologise to parliament for statements he made in 2017. He said that Mediacorp removed parts from a footage on the Presidential Elections (Amendment) Bill and only rectified the omissions after he emailed them.
Grace Fu asked Leon Perera to retract his statements which she said misled parliament.
This is not to say that PAP MPs did not have to apologise in parliament. However, once it happens to an opposition MP, the matter is blown up in the news.
To the PAP, they feel good seeing the opposition say sorry to them in a humiliating way but to the people, it is petty fixing and bullying. The PAP always thinks they are right and must show they are right.
Trying to question opposition MP's intentions and denouncing their conduct will not stop them from speaking up for Singaporeans! They are the ones who have courage to stand up for us and they should not have to bow down to the PAP!