Not everything can be brought overseas. Bee Cheng Hiang had a sign saying that customers could bring beef and chicken Bak Kwa to Australia. A traveler who wanted to buy Bak Kwa to bring to Australia as a gift clarified with the shop, and bought a box after the staff confirmed.
However, after she arrived in Australia, the customs officer at the check point confiscated the Bak Gwa. When the traveler showed the officer a picture of Bee Cheng Hiang's sign, the officer said that the information is incorrect.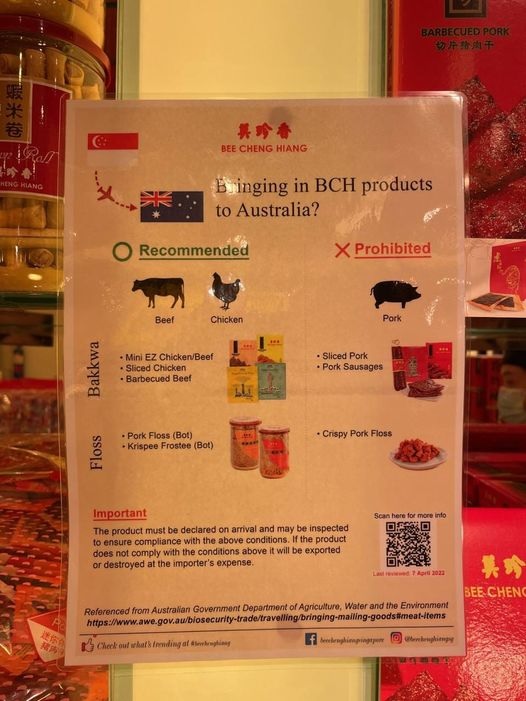 "I advise anyone traveling to Australia to take note if you intend to buy Bak Gwa into Australia, don't waste your money… it went straight into the bin upon arrival there."

Gracia Grace
What is Australia's rules?
Australia does not allow travelers to bring any pig meat products. For other meat under the category "jerky/biltong", it must be;
manufactured in an approved FMD-free country (note this requirement does not apply to jerky made from poultry meat)
shelf stable (does not require refrigeration)
commercially prepared and packaged and arrives into Australia in sealed (unopened) packaging
imported in an amount up to 1 kilogram
for the personal consumption of the importer.
Seems like the Australian customs officer might have made a mistake. What do you think?