At the National Day Parade yesterday (9 Aug), the most experienced member of the Red Lions parachute team suffered from a hard landing due to unpredictable wind conditions. Third Warrant Officer Jeffrey Heng, who has made more than 1100 jumps, was the last of 10 parachutists to land.
Onlookers gasped as they saw him skid on the pavement and fall to the ground. Medics rushed to his side before he was stretchered off.
Son says he only fractured his leg.
In the latest update, 3WO Heng's supposed son shared that the dad's injuries are not critical. He also is thankful that the injuries are not too serious.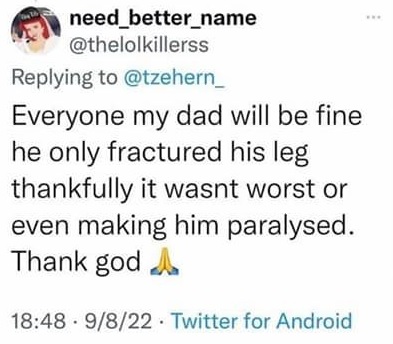 The red lions performed well during the previews, but each jump is different because of weather and wind changes.
In July last year, a parachutist took a hard fall and had to be stretchered off during an afternoon jump in Bishan. He had a flag attached to him that got caught in the grass as he was about to land. In 2005, another parachutist suffered a fracture to his pelvis when he had a hard landing at the Padang during a National Day Parade rehearsal.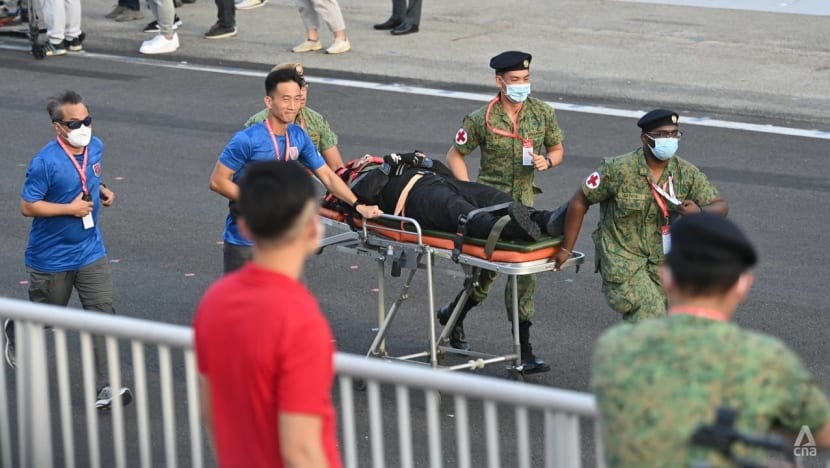 Regardless, even if injuries are common, is it worth risking the lives of Singaporeans for the sake of propaganda? Does it make sense for a son to be thankful that his dad wasn't paralyzed during a fancy birthday party, when this injury could have been avoided in the first place? Do we really have to wait for an even worse injury before we review the need for such a show?
Kuanyewism wishes 3WO Jeffrey Heng a speedy recovery, and we thank him for his service.