The student complained on 小红书 (social media platform from China) that NTU disrespected their Chinese students by using "Lunar New Year" instead of "Chinese New Year". The netter alleges that this is a move by NTU to suppress any sense of belonging to China in the school, and that this undermines the existence of students from China there.
"我们的春节,我们的文化,我们的历史,还没被偷走就被NTU抢走送人。"

Translation: NTU robbed us of our holiday, our culture, our history.
The student then asked that other students from China gather together to fight for "our great country", to make sure that NTU and NTU SAO doesn't erode Chinese culture.
Lunar New Year is NOT a Chinese Holiday!
This student just showed how self-entitled citizens from big countries can be. This is a festival that is celebrated by every ethnicity that has a tradition of charting the time of the year through the lunar calendar. This includes the Koreans and Vietnamese. Just because you are the biggest country that celebrates a year of the Moon's rotation around the sun doesn't mean it is your holiday.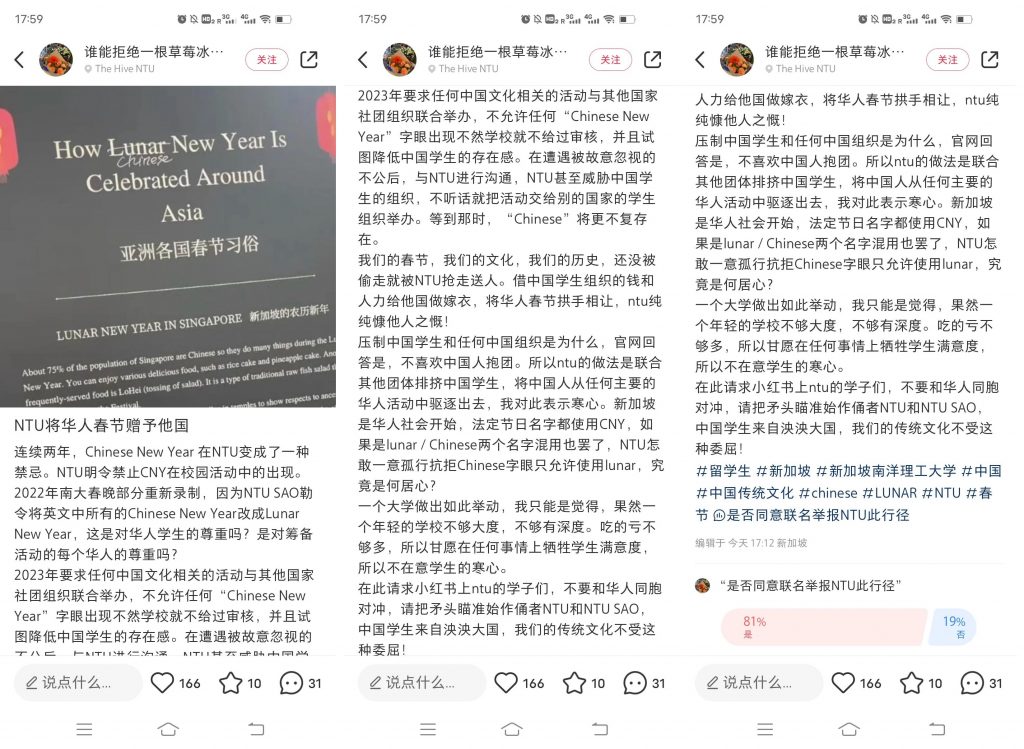 They think that Singapore is a county of China
It is foreign students like these that Singaporeans don't like. They are the ones who are trying to undermine Singapore's culture by making it seem like we are a Chinese county. They like to conveniently forget that Singapore is multicultural. Everything also want to link back to China.
If you're not happy about this and if you love your country so much, you can just choose to stay in China. Even the Chinese Embassy in Singapore uses "Lunar New Year", who are you to make such a fuss!