On 5 May, the Disciplinary Tribunal (DT) released their findings that imposed financial penalties on Kwa Kim Li, the late Lee Kuan Yew's lawyer, for misconduct in handling Lee's wills. The DT concluded that Kwa had misled the executors by withholding information and making false statements. For the case, the DT allowed Lee Hsien Yang (LHY) to give evidence by video link, despite concerns about the reasons behind his passport's unavailability.
Out of the various media outlets that covered the incident, only Lianhe Zaobao and Mothership addressed the passport issue highlighted in the DT's report.
Lianhe Zaobao, mentioned in its report that LHY, the complainant, had requested to provide evidence via video link due to his passport being withheld by immigration, preventing him from attending the disciplinary hearing. Note that they did not specify which country's immigration.

Mothership, relying on Lianhe Zaobao's report, stated that LHY was originally scheduled to attend the hearing in person but in a mistranslation claimed that his passport was seized by the Immigration and Checkpoints Authority (ICA).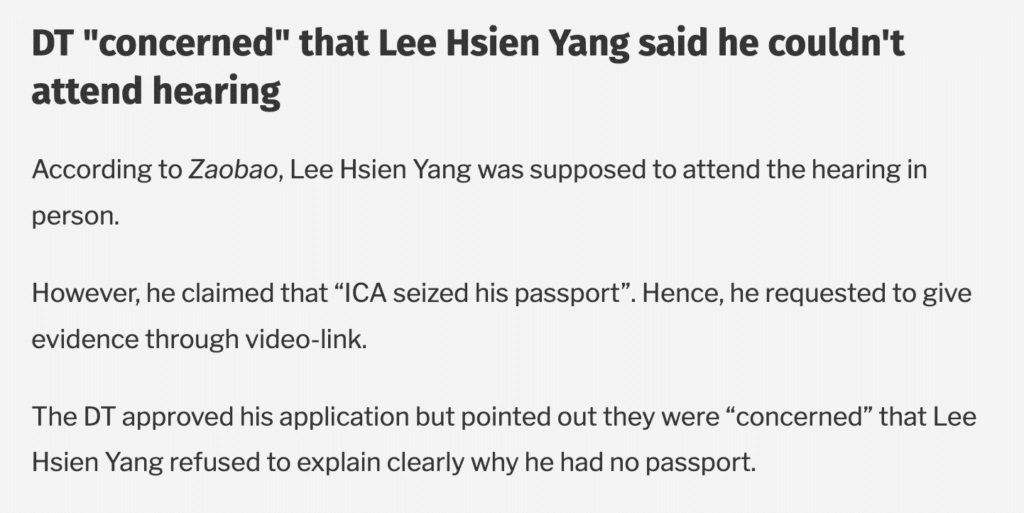 The discrepancy was highlighted by The Online Citizen, and Mothership has since corrected their article. ICA also said on Wednesday (May 17) that the passport of LHY remains valid and that it has never seized the document.
Will Mothership be POFMAed? As the government's secondary mouthpiece, they seem to be immune to such treatment.