Singaporeans were asked to share their most interesting experiences from their part time jobs. From accidentally spilling barley onto someone's PRADA bag, to cleaning cockroaches from payment terminals. Here are some of the stories.
Spilling hot barley onto a customer's PRADA handbag.
This happened at a "very well-known Chinese restaurant (a company with wide variety of restaurant concepts)." The netter shared that on his second day of work he was carrying five glasses of hot barley drink on a tray when the tray flipped. The drinks then landed into a lady's PRADA handbag.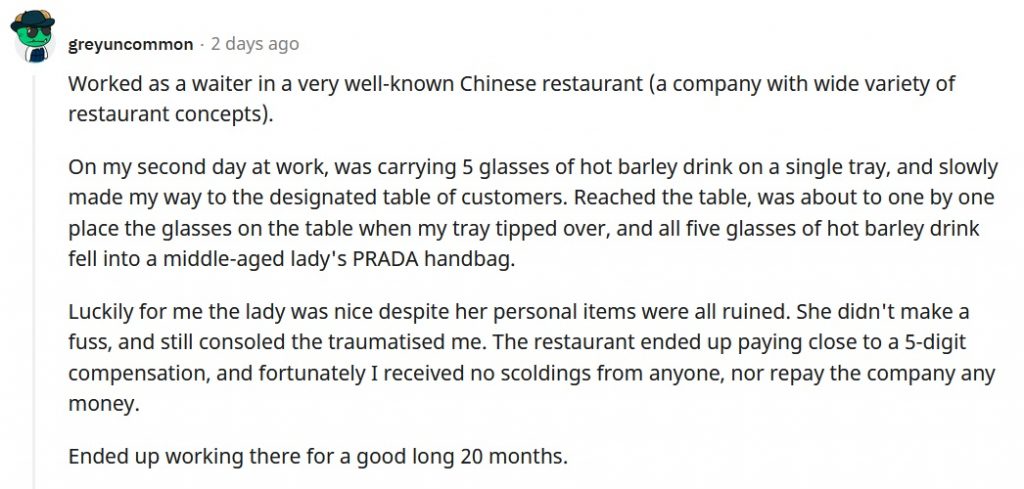 This lady actually had class. The company is also nice to not deduct from the part timer's pay. Not everyone is so lucky, most part timers have it bad.
Getting scolded for breaking plates
This happened 15 years ago at Grand Hyatt's buffet restaurant. This netter was carrying a stack of porcelain plates into the washing area when they slipped and cracked the plates. Instead of administering first aid, the manager screamed and shouted at the netter and fired them on the spot.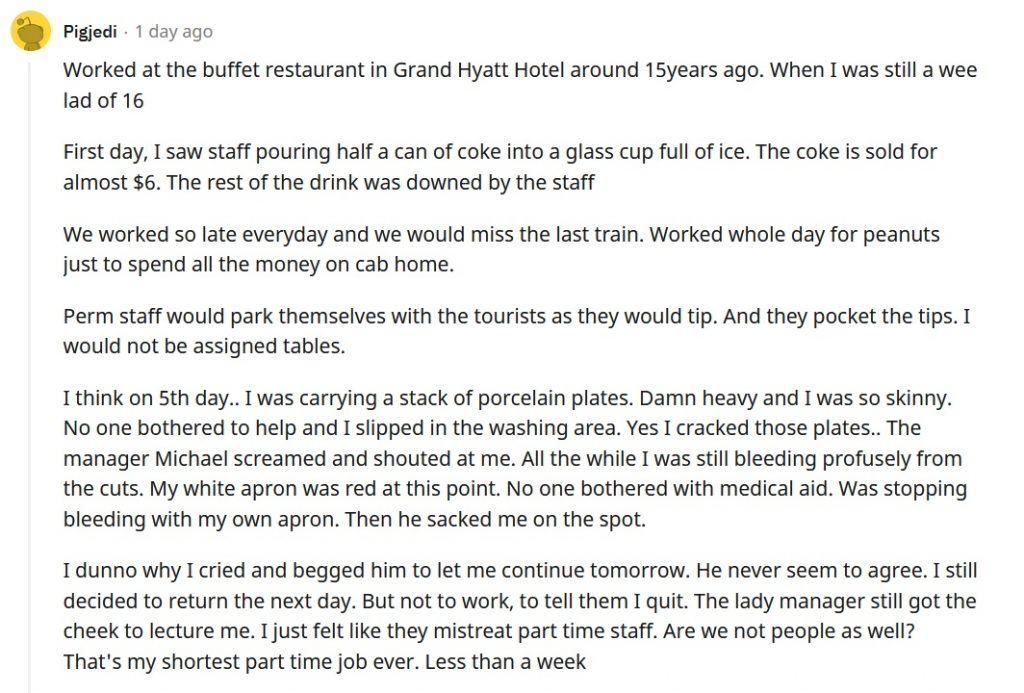 Woes of a vaccination nurse during COVID vaccination drive
A netter who worked as a vaccination nurse at a COVID vaccine center shared that the boomers are the most difficult to work with. From racism to telling you that the injection is painful before you even insert the needle.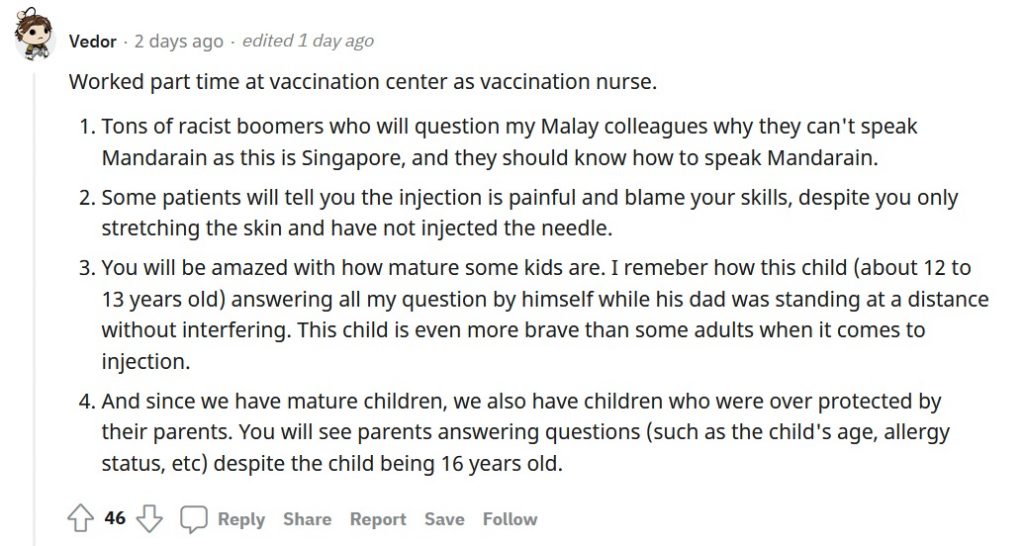 Cleaning cockroaches inside a credit card/payment terminal
A netter who used to work for a now defunct company that handles credit card/payment terminals used for cashless transactions shared that the most filthy terminals they have seen came from school canteens. Once, they received a terminal that had both dead and alive cockroaches and cockroach eggs inside the terminal.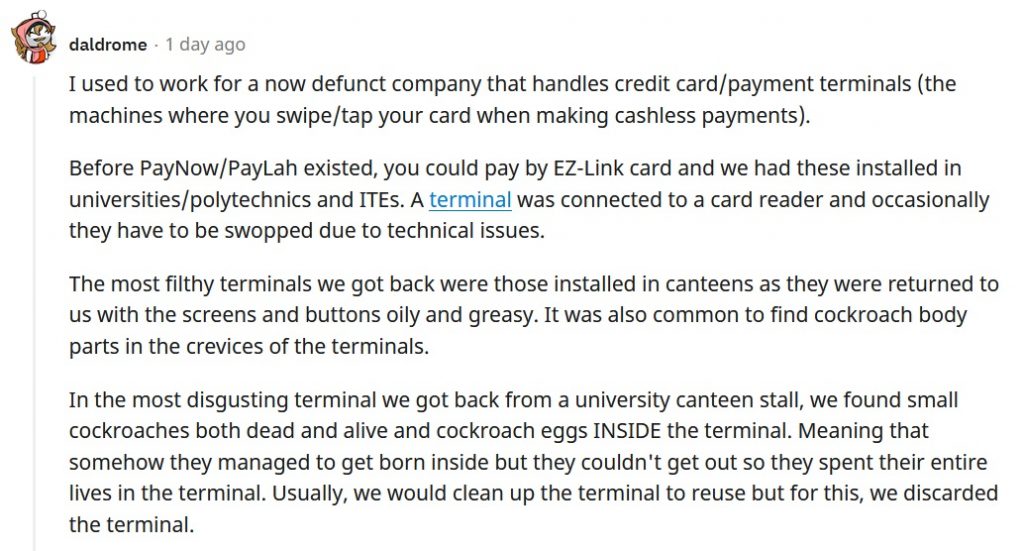 After-party for banquet part timers
Ending on a lighter note, here's a story from someone who used to work part time at MBS banquet. After a big event (with 40 part timers), the part timers decided to take the chance to chug unfinished bottles of wine (which would have been thrown away). Apparently they had quite a blast.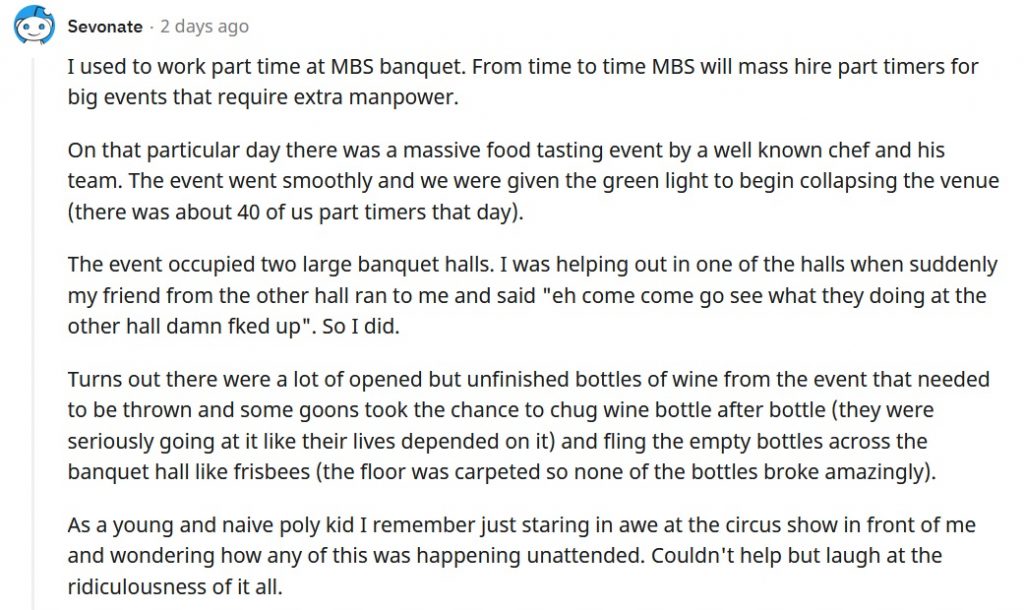 Do you have any stories to share?