In an article by Financial Times documenting "struggles" that expats have to face in Singapore, we get to see how spoilt they really are.
Many expats from Hong Kong are moving to Singapore to flee China's restrictions. However, apparently they are not happy about moving to Singapore. This is what "John" has to say –
"I'm staring out at the ocean looking at the pool in front of me as we speak. I know we are not going to have that… We are going from a house with a pool, a tennis court, a garden, five bedrooms, to somewhere where we are looking at an apartment, basically."

John, speaking to Financial Times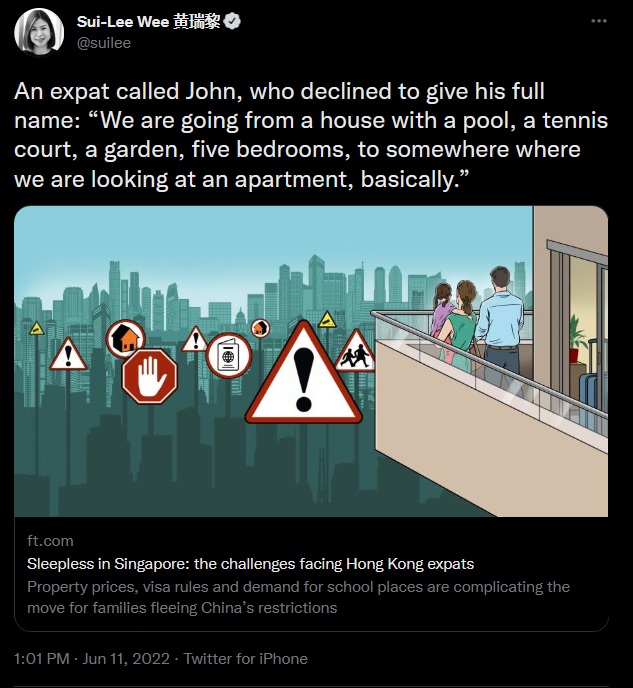 They are complaining about many things.
In the financial times article, they complain about our weather;
"It is brutal… [during my first month] here I could not get enough sleep. I was always worn out from the humidity…You order a whisky sour and the ice cube melts in 30 seconds."

Unnamed entrepreneur who arrived in Singapore this year, speaking to Financial Times
they complain about not getting to stay in Bukit Timah or Orchard Road;
"If you wanted a [house] along Bukit Timah near the British school, you're screwed,"

Hari Krishnan, chief executive of Singapore property site PropertyGuru
and they complain that their families find it difficult to get a job here.
"Daniel Beatty, who relocated from Hong Kong in September, says his wife has struggled to get a job amid the pushback against foreigners."

Financial Times
So why are we accepting expats who are not happy to move here?