This is a reflection from Gilbert Goh, who was just on trial for "protesting" outside ICA without permit. What he actually did was hold a placard silently for 29 seconds to take a picture before leaving.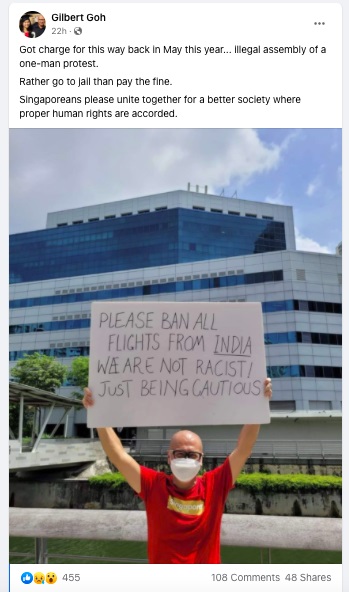 ---
Felt relieved that the last day of court hearing is over today and you could sense the tension easing off slowly as the day ends.
In court today, I felt unwell midway through the witness hearing and asked for a short recess before continuing.
It's been a long torrid five months of waiting for the court hearing after receiving the charge order late last year and finally when it ends you could sense the relief flowing through your whole body.
The steps are lighter now and you could afford a smile here and there to everyone who crosses your path.
I want to also take this opportunity to thank all my friends and supporters for showing up especially on the first day whereby there are almost ten of you present – kudos!
The verdict will not be known so soon and I will update all on social media once there are news regarding the matter.
"a one-man gathering does not constitute a demonstration as there are no speeches made and more importantly I didn't pursue after a cause."

Gilbert Goh
We are hoping for a acquittal at least for the first choice of illegal assembly without a permit as my lawyer Mr Lim Tean has kept pointing out to the court that a one-man gathering does not constitute a demonstration as there are no speeches made and more importantly I didn't pursue after a cause.
"Under the Public Order Act, those who take part in a public assembly without a permit can be fined up to S$3,000."

CNA
As for the second case of not signing on the police report, it's tougher to get any acquittal and we are resign to a final guilty verdict.
The second charge carries a jail sentence of not more than three months plus a fine.
Barring all unforeseen circumstances, I will be entering jail in default of a fine unless something serious happens which prevents me from doing so.
Of course, if there is the additional jail sentence imposed, I have no other choice but to serve the sentence.
A activist must always be prepared to go to prison for his conviction and feel proud that he has done so out of a patriotic sacrifice for the country and the people he serve.
I will be singing Majullah Singapura gladly with a smile as I walk the tunnel of freedom towards Changi Prison on that day of reckoning!
What a privilege, what an honour to serve my country in this manner…
Once again, I want to thank my lawyer Mr Lim Tean for his devotion to defending activists on a pro-bono basis mostly and for upholding the principle of fairness in all justice matters.
He alone gives us activists a fair chance of defence against a impenetrable machinery of relentless autocracy and dictatorship.
I will take a day off tomorrow before resuming our weekly Friday meals distribution to the elderly folks living in government rental housing.
#willingtogotojailforabettersingapore
Source: Gilbert Goh