Last night, I lit some candles and sat outside Changi prison with a few friends and thought a lot about Abdul Kahar, who was executed this morning. When I first spoke to his brother, I was struck by how Kahar spent most of his life incarcerated since he was 15. His brother told us their family was poor, and he remembers being hungry all the time. He shared how Abdul Kahar was fiercely loyal to his mother, and the brother is afraid of telling her about the execution, for fear that her health would deteriorate even further.
As I sat on the grass, watching the flames flicker, I wondered what it was like for Kahar to be all alone in the cell with barely anyone to talk to for the last 10 years in solitary confinement. What thoughts were running through his mind as he stared at the bare prison walls, during the last hours of the night before he was to be hanged at dawn?
What Kahar needed was care, support and treatment for his addictions, as do the many others who are on death row. What does killing him do, except inflict more pain on his family and loved ones?
I'm glad I'm not alone in feeling this, and was heartened and encouraged to be sitting among like-minded friends last night. It didn't matter that the Police came and told us to leave and we'd eventually be investigated, and maybe charged: I was inspired by and grateful for that shared moment of intimacy, camaraderie and solidarity.
To add: The guy who led the police team, who is a superintendent and the officer commanding of the nearby police post, told us that we shouldn't be 'playing with fire' and that the generator inside the prison compound might catch fire, and therefore what we did was wrong.
Our quiet chat outside Changi Prison was interrupted by the arrival of a SCDF vehicle. The 2 firemen inside said they received a call (most likely from the police) that there was a fire. When they saw 4 people sitting around tea light candles, they laughed and drove away. Shortly after, about 10 police officers appeared, surrounded us and started their questioning. After a back and forth exchange which lasted about 20 minutes, we told the officers that we were tired as it was past midnight, and if they had further questions, to schedule an appointment.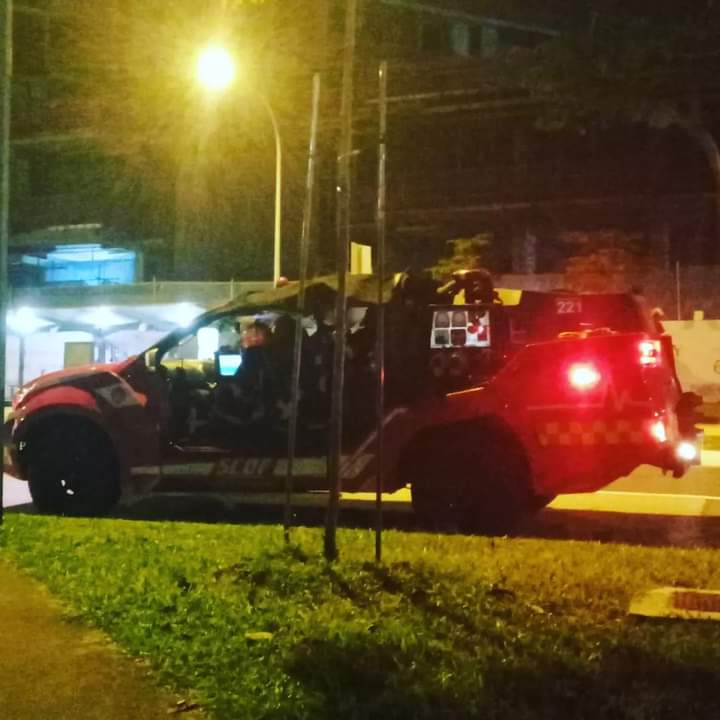 Source: Jolovan Wham