A police officer was making the "say cheese" gesture with both hands, right next to a dead body in a blue tent at an incident scene.
It is highly insensitive and inappropriate of a police officer to be doing that, especially since police officers whom we trust to safeguard the nation are held to high standards of professional conduct.
A netizen, "Tracy Lim" has urged Law and Home Affairs minister K. Shanmugam to relook how the Singapore Police Force trains its officers: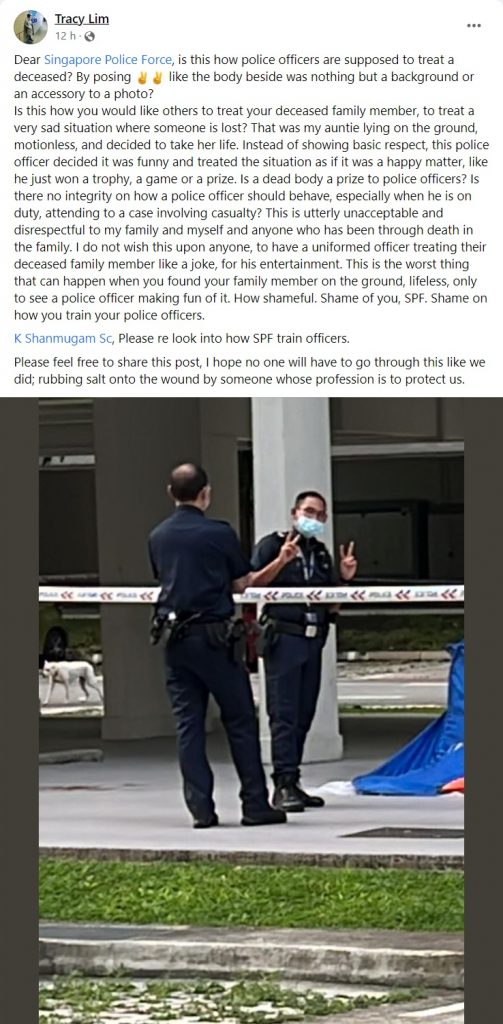 Dear Singapore Police Force, is this how police officers are supposed to treat a deceased? By posing like the body beside was nothing but a background or an accessory to a photo?
Is this how you would like others to treat your deceased family member, to treat a very sad situation where someone is lost? That was my auntie lying on the ground, motionless, and decided to take her life. Instead of showing basic respect, this police officer decided it was funny and treated the situation as if it was a happy matter, like he just won a trophy, a game or a prize. Is a dead body a prize to police officers? Is there no integrity on how a police officer should behave, especially when he is on duty, attending to a case involving casualty? This is utterly unacceptable and disrespectful to my family and myself and anyone who has been through death in the family. I do not wish this upon anyone, to have a uniformed officer treating their deceased family member like a joke, for his entertainment. This is the worst thing that can happen when you found your family member on the ground, lifeless, only to see a police officer making fun of it. How shameful. Shame of you, SPF. Shame on how you train your police officers.

K Shanmugam Sc, Please re look into how SPF train officers.

Please feel free to share this post, I hope no one will have to go through this like we did; rubbing salt onto the wound by someone whose profession is to protect us.

Tracy Lim FB
To that policeman, we don't know what you're trying to do but it's not funny and it's certainly not right to make light of a sad situation. To SPF, please clarify why officers are allowed to behave disrespectfully when carrying out their duties. Are they not taught basic respect and code of conduct? This is disgraceful!