The police officer who went viral for continuing to work while she was 30 weeks pregnant has decided to call it quits.
Last year during the circuit breaker, Reema Razif wrote on her Facebook that she was happy to serve as a frontline worker despite being in her third trimester with her third child.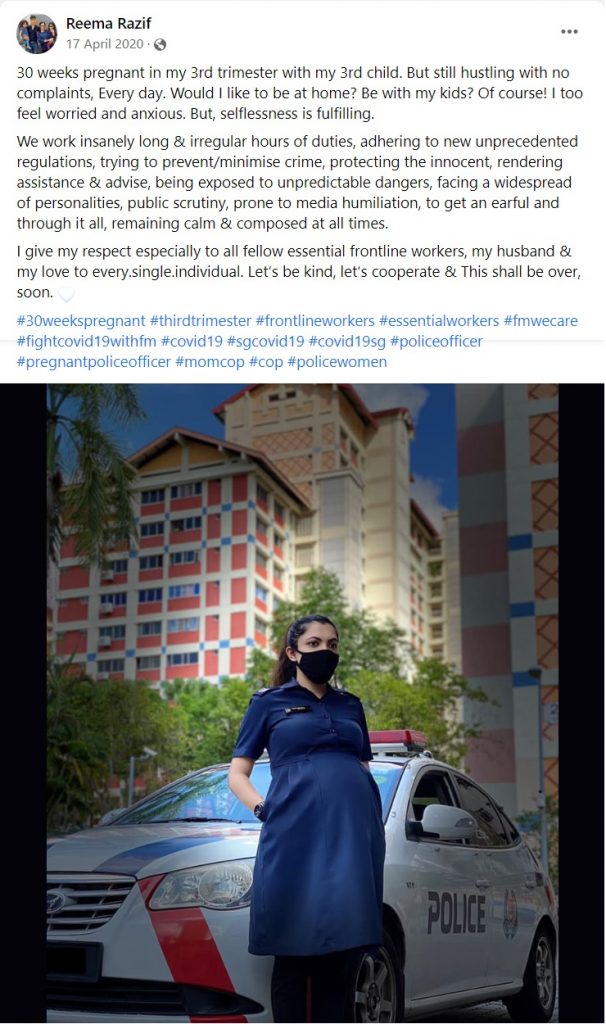 Two years on however, she decided to leave the force because she felt all that did not matter and she was told her performance grade dropped "because she was pregnant".
This was what she wrote on her Facebook on 7 Jun 2022:
After a whirlwind of emotions, fickle thoughts & countless contemplation, I finally geared up the courage to walk away.
Feelings of fear & guilt :-
I have 4 very young children (5yrs & below) & have zero back-up plan for income! Was I being irresponsible? Or am I setting an example for them? To never settle and follow your heart? It was definitely a mental turmoil & not an easy decision to make. But thru the support of my loved ones, I managed to brave this step.
It was my career, it was my life, for 11 years. I truly gave my 100%. To the people, to my country. I have no regrets because I loved every bit of it. Being able to help others even in any small way possible was the best fulfilment (at that time).
Unfortunately, it was and never will be enough. Being told that my performance grade dropped "cos you were pregnant what" and being advised to "take up some projects during your maternity leave" was not something I could resonate with.
Working throughout my pregnancies, lifting heavy equipments for my peers (Willingly), sacrificing meals because my work was my priority, getting into labour while at work for 3 out of 4 of my pregnancies, going to the hospital in my uniform, still did not suffice to see me as a "performing" worker I guess.
This very photo that unintentionally went viral, thankfully in a positive light, was also something I was condemned with and given strict instructions to decline any kind of further exposure. (I apologies to all who reached out and received no response from me – I was not being arrogant)
I realised I did not matter. That I was just another employee. Not getting a farewell card on my last day did hit me, not gonna lie. Those who've received full-on dinners, gifts, momentos and tokens for their contributions, you have my envy.
It's not about getting anything, it's the realisation that you're dispensable.
This reassured me that I made the right decision for myself. Now, I get a lot of scribbled "I love you mommy" cards which is indeed gratifying.
We are a very average family with humble backgrounds. I hope I do find something where I will reap the fruits of my labour because I know what I'm capable of and how much I can give.
I just want to say to those out there who have been considering hard to leave their jobs; Life is really too short. Sometimes you just need to jump into the open sea (after carefully deliberating of course).
This is not directed to the organisation, this is me sharing MY personal experience as an individual.
Those who are striving, may you continue to soar & succeed! You have my utmost respect & sincere wishes.
Lots of love,
Reema, a member of public.

Netizens cheered her brave decision to leave and thanked her for her contribution to the nation. Her post also resonated with many who also feel unappreciated at work and those who felt that such discrimination has been going on for a long time but nothing has changed.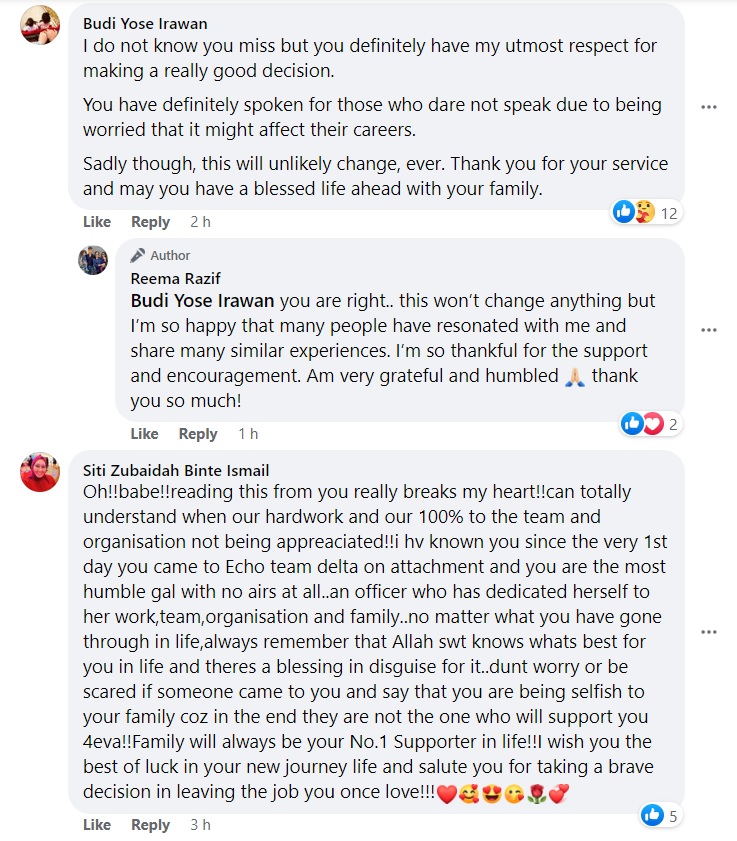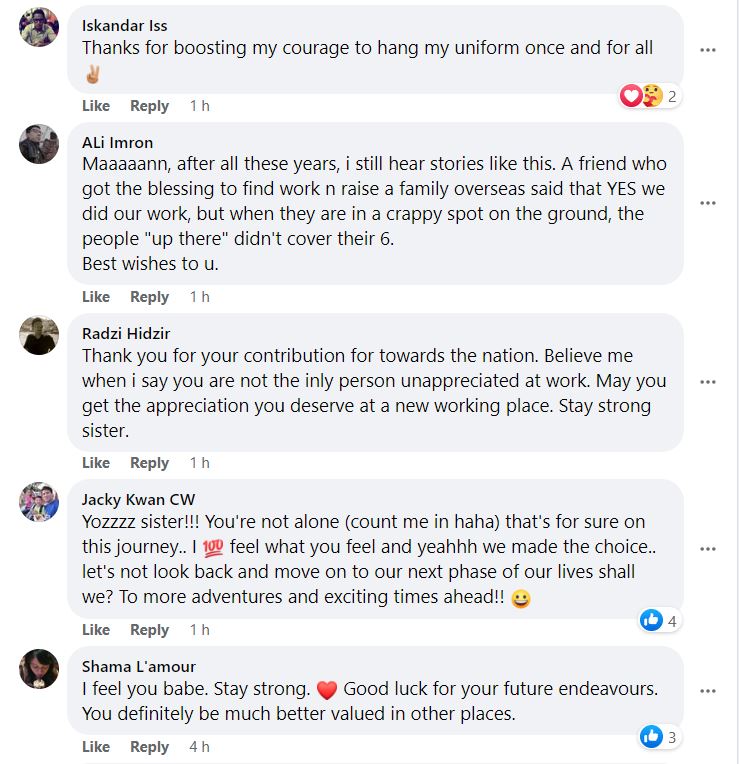 Surely, an officer who put in more than her best in difficult times deserves better. Besides, what kind of example is the uniformed service setting for other employers by treating their female employees like this?