A racist incident happened at NTUC FairPrice outlet at Our Tampines Hub on Sunday, 9 Apr. Farah Nadya and Jahabar Shalih were doing their weekly grocery when they came across a stand giving out free Iftar snacks for Muslim patrons to break their fast. They were then approached by a Fairprice staff member who exclaimed "Not for INDIA, not for India".
Shalih tried to explain to the staff that the snacks are for all Muslims, pointing out that "not all Malays are Muslims and some Indians can be Muslims." According to Nadya, the staff then replied, "I don't know. I no education, the top people tell me to say like this. I don't know. Just go away."
She expressed her shock and disappointment at the encounter, while explaining that she and her husband were both Muslims, her being a Malay-Indian and her husband an Indian-Muslim.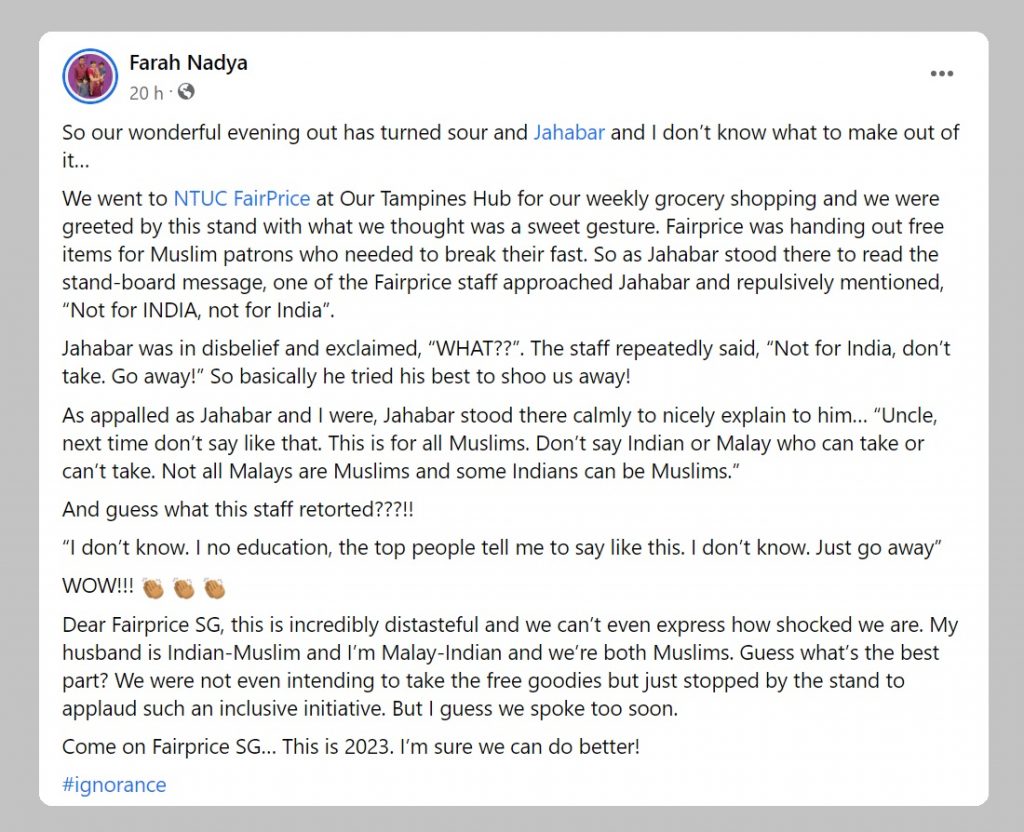 FairPrice apologizes for the incident
NTUC FairPrice issued a statement the next day to clarify that the packs are available to all Muslim customers. They said they have spoken to the uncle, and yes the uncle should be more respectful.
However, this doesn't discount the fact that the employee thought he was supposed to make sure that non-Malays do not take the Iftar pack. He said that he was just following orders. You cannot tell someone's religion from the way they look, race and religion are two separate things! You don't have to be Malay to be Muslim. One of the managers at NTUC FairPrice must have confused the two and gave such ridiculous instructions.