During the recent parliamentary debate on Budget 2022, the issue of succession planning was brought up. The more surprising thing is that a PAP MP brought it up, not someone from the opposition. He is Holland-Bukit Timah MP Christopher De Souza. Apparently he is one of many other backbenchers in PAP who are worried about this.
"The ruling party of the day — that is, the People's Action Party (PAP) — must swiftly choose the next Prime Minister (PM) and next Deputy Prime Ministers (DPMs) and give them as long a runway as our current PM can manage."

Christopher De Souza
What is he talking about?
It's been a year since Heng Swee Keat decided he didn't want to be in the running for PM anymore. PM Lee wanted to step down before he turned 70 on Feb 10 this year, but after that he changed his mind.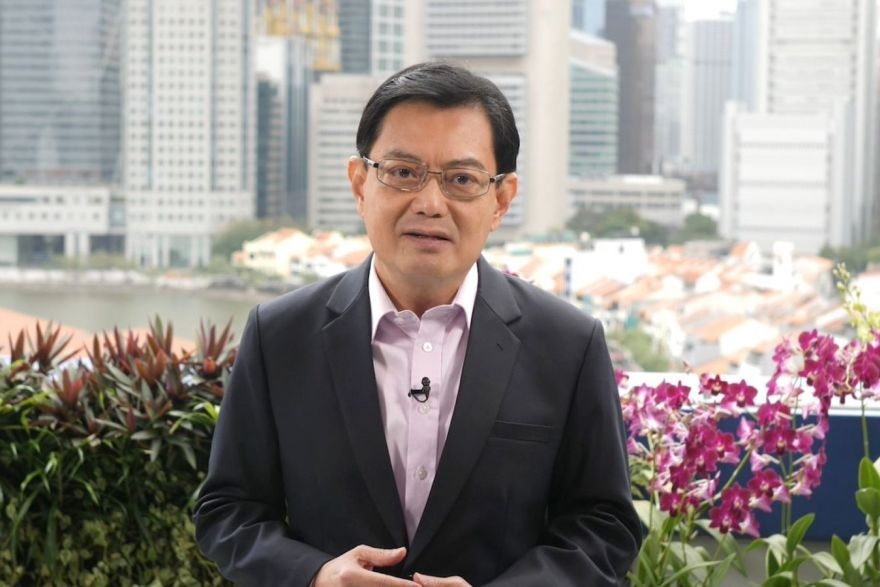 Now, there seems to be no succession plan at all.
So, PAP is not united.
What De Souza said shows that any decisions made are not expressed to all their party members. So much so that their own MP had to raise ask such a question in parliament. There is also an obvious divide between the "backbenchers" and the 4G's frontbench.
"The backbenchers discuss these things between themselves because we want to see Singapore succeed."

Christopher De Souza
He didn't only reveal that there is no succession plan. What he said also shows that not every PAP member will be involved in the decision making.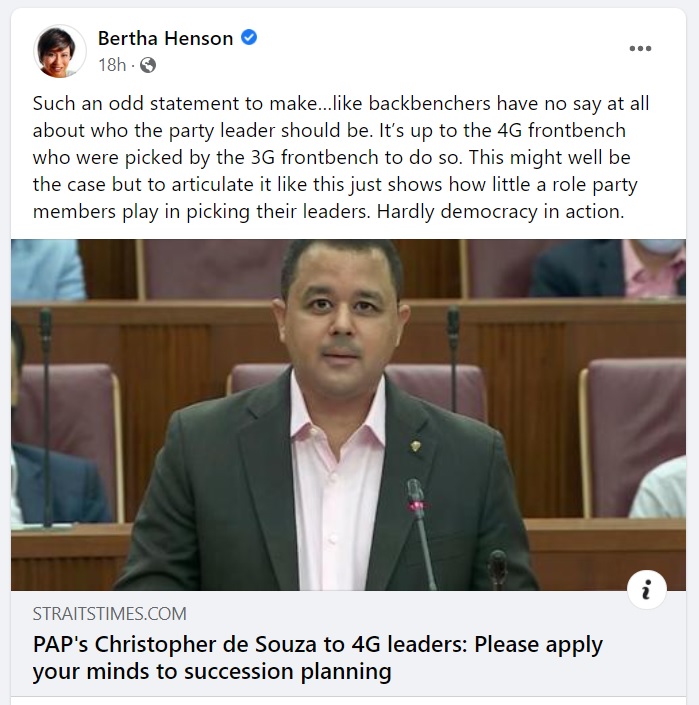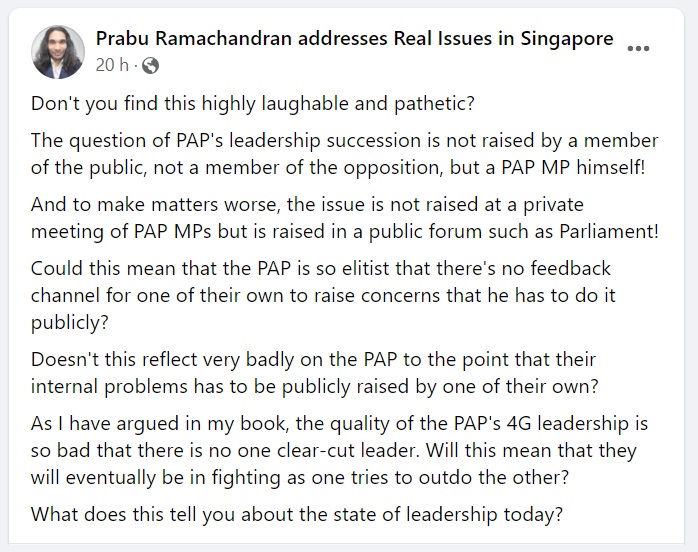 How can Singapore be a democratic society when our own leaders don't even practice democracy within their party?
De Souza makes a lot of good points
He says that Teo Chee Hean and Tharman would be "ideal candidates for the 4G PM-ship" if they were 15 years younger. Shanmugam, Vivian Balakrishnan, and Ng Eng Hen too if they were 10 years younger.
This is what happens when they don't plan ahead. PM Lee spent 18 years as a prime minister, and the entire time he never think about proper succession plans. How could it be that when one person decide not to run his plan fails?
He also says that the world needs to see that we have a succession plan for them to maintain their faith in us. Isn't it embarrassing that we have nobody qualified enough to be named next PM at this time?
"Singapore's predictable political environment gives them confidence to invest their business, human capital and infrastructure long term in Singapore. Germane to that is their understanding of Singapore's political succession planning. And here I am talking about political succession planning within the PAP."

Christopher De Souza
PM Lee's leadership has obviously not been effective! Not only does he have no plans for the future, even his own party members are divided. It's time for a change!