This morning, Mothership wrote about a Western stall in Bedok that was allegedly on the brink of closing down. It reported that the stall owner had no salary for 1.5 years. It said he was "emotional and vulnerable" when talking about his debts and even thought of borrowing from unlicensed money lenders.
The owner is French Muslim convert Umar Fabrice. He appeared in a video with TV personality Chef Bob. He runs Mat Western, a Western stall at Bedok North Street 2.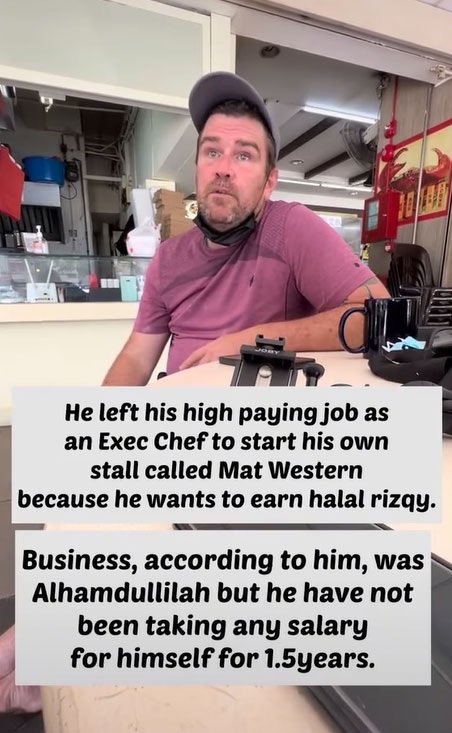 In a twist of events, Umar said it was a misunderstanding. He clarified that his stall was doing fine.
"First – I was not crying to get any sympathy. I was sharing with him about some emotional topic about my mom, who visited me last month here in Singapore.

I was not referring to the current business I am currently into. Business is good. Alhamdulillah. I was talking about some other business not related to the shop. I will never resort to any sort of money lending or anything illegal."

Umar Fabrice of Mat Western
Umar wanted people to know that he was misrepresented. He thanked Singaporeans for their support and told everyone not to worry.
"Please forgive me for any misunderstanding. You have all been very kind, in fact too kind. Please pardon my English, I don't speak very good English during conversations. And that might also turn to some misleading information.

I really hope to serve food for all of you and will always have a passion in me to make good food for all. Thank you."
Glad to know he is ok. Now, netizens are roasting Mothership for failing to verify facts. This is not the first time it is under fire for lacking standard. It may be very popular but is it really reliable?