NUS is in the limelight for the wrong reasons again. Tiktoker @studywithbritney recalled her uncomfortable experience in NUS' orientation camp a few years ago.
Her seniors blindfolded her and told 3 guys to take turns to hold her hands and talk to her. She could hear the boys laughing and "feeling it" but she was not allowed to move away. The conversations lasted for some time. Afterwards, she had to tell the seniors which boy she liked most.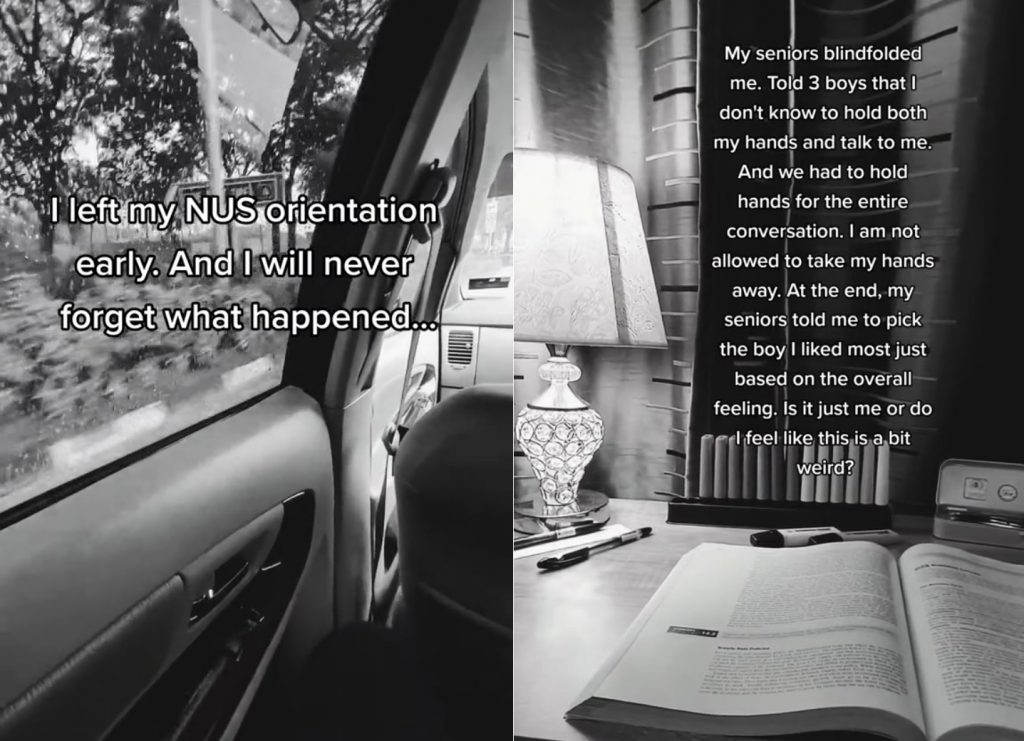 She only participated because she did not know what was going to happen. Her seniors told her they would bring her to a secret place for some "secret activity". She conformed to peer pressure and was afraid to speak up. She thought she was overreacting.
Years later, she is still reminded of the weird experience whenever she sees NUS freshman going for their orientation camp.
"[I] kept this to myself for the longest time. took me years before I decided to let it out… had to bury it all these years but it never fails to pop up when uni orientation month is here every year."
She is perplexed at why NUS camps often include matchmaking elements. It is important to make students bond but not to the extent of making them uncomfortable. In fact, she remembered her Polytechnic orientation camp being enjoyable.
A few commenters called her a "strawberry" for making a big deal out of nothing. Do you think she is overreacting or are these activities uncalled for?
Nevertheless, it has been years. She eventually dropped out of NUS, took a gap year and went to NTU. She stated on her Tiktok profile that she is a NTU scholarship holder. Her videos are mostly about tips to study better, but with this unexpected post, it is unclear if she has really moved on.