Singaporeans are now a little more informed about phishing scams after all the high-profile cases. Unfortunately, scammers around the world still have many tactics up their sleeves. A 28-year-old Singaporean was convinced that she was working for a branding company that leaves positive reviews for airlines. Little did she know she would be falling for a job scam.
It started with a Telegram text
The text from "Josephine Chang", promised a quick and easy job with reasonable commissions. All anyone has to do is to rate airlines via an online platform to "promote and advertise" the airlines. The more ratings completed, the more commission.
As Lina (fake name) has previously done other legitimate surveys to earn money, she did not suspect that this was a scam. Hence she replied to express her interest.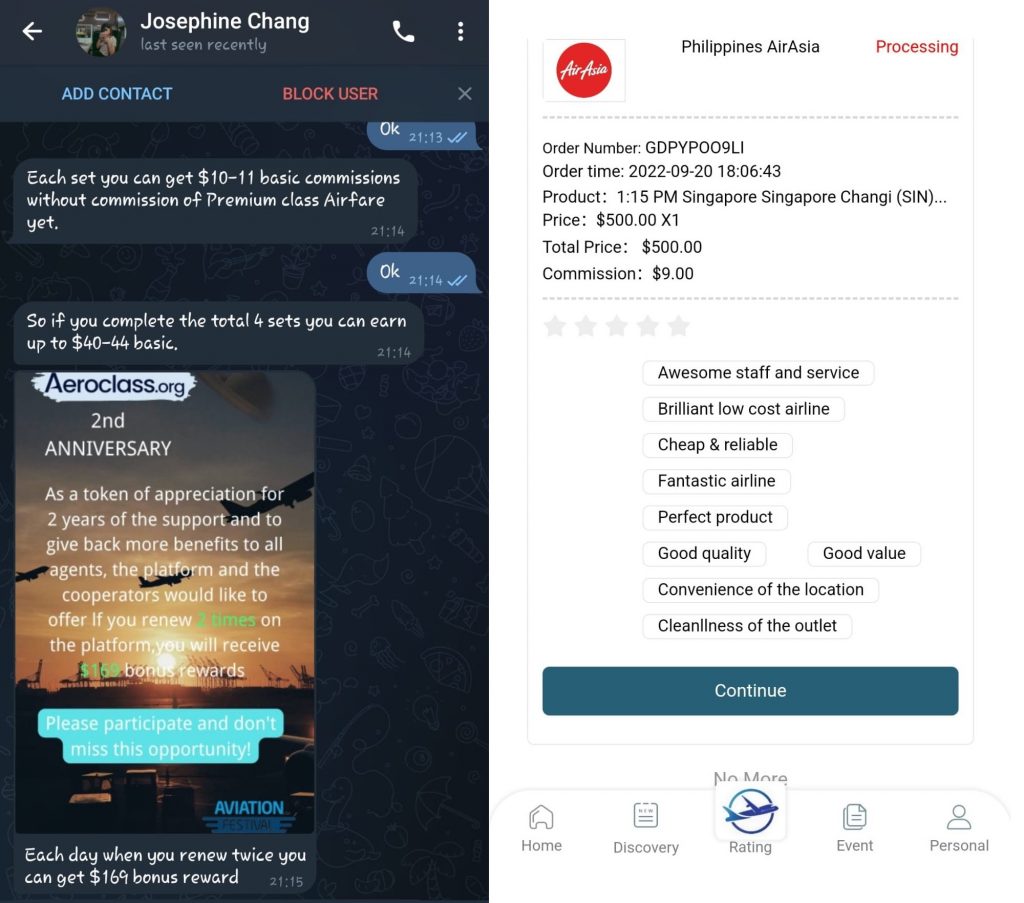 But with a catch: first, she had to make a deposit.
Chang says that the deposit makes the ratings authentic, because every rating has to be tied to a transaction. She also added that the money will be returned with commission. Lina then deposited $112 to begin the job.
"[I thought] if lose it, then lose it, but I got some money (S$11) credited to me. So I was like 'ok sure, let's proceed'."

Lina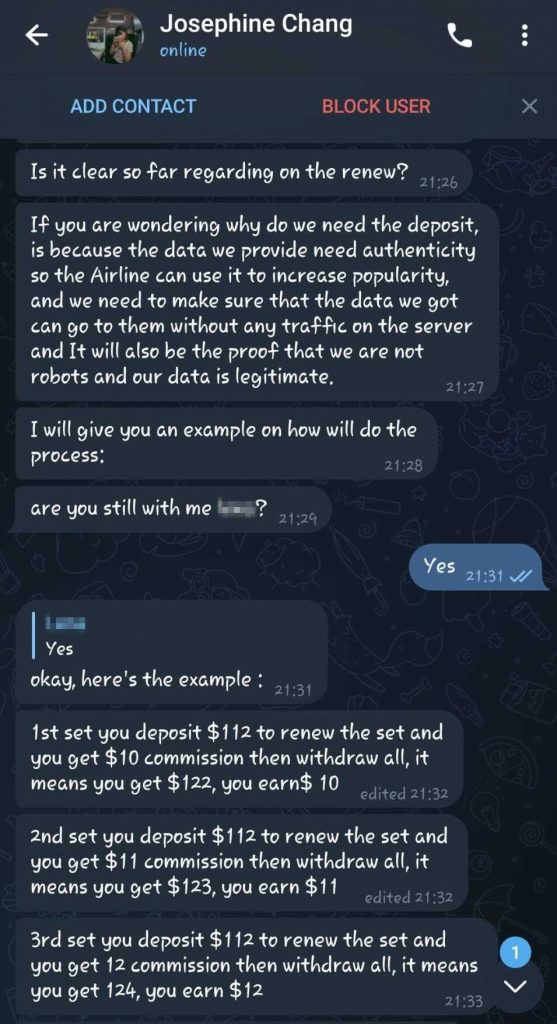 The amount quickly snowballed
After that first transaction, Chang informed Lina that to continue rating the airlines, she would have to top up some money into the online platform (Aeroclass). This would be used to pay the merchants so the platform could continue offering this service, she explained.
However, as Lina continued to make increasing payments — each one to a different bank account — Lina began to face problems. When she tried to withdraw her earnings, she received an error message informing her that she had to complete another rating first. And after she did so, she was told that she had to top up even more money before she could make a withdrawal.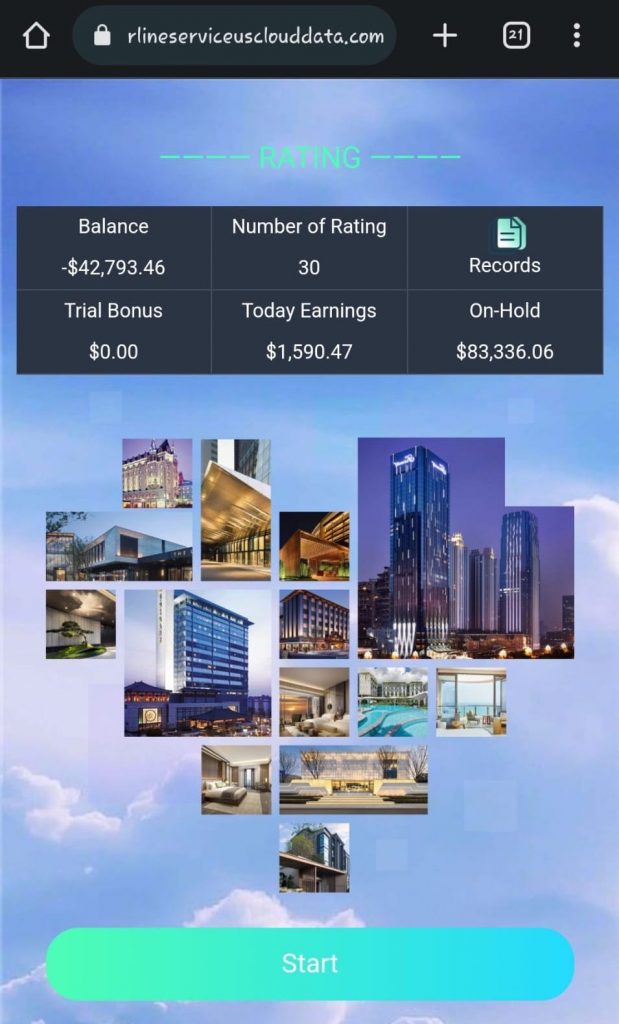 By then, Lina no longer cared about earning commissions — she just wanted to get her initial "investment" back. Her sixth and final transaction was S$20,104 on 20 Sep, one day after the first message from Chang. In total, Lina lost S$34,226 in just two days.
Scammer is relentless
Even after Lina decided to stop depositing money, Chang still texted Lina to ask her if she really wants her money to be stuck in the account. Chang also urgently asked Lina to top up $42k to retrieve her deposit, which Lina didn't have.
"The urge to top up was there, but I really didn't have the money to continue."

Lina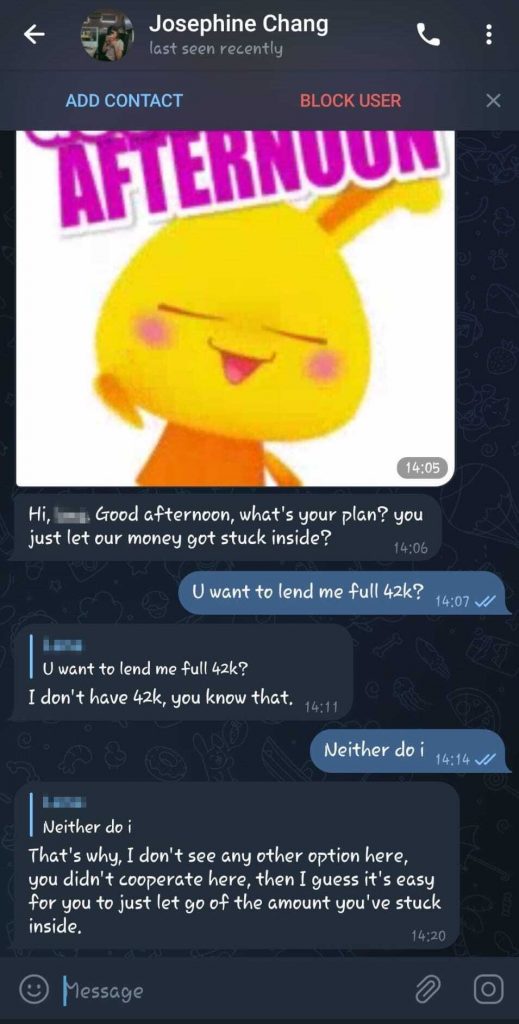 The scam was believable
Besides having prior experiences earning money from surveys, Lina was convinced because of the group chat she was added to. In the group chat, several other "employees" will report their earnings each day.
"I don't know if they are victims like me or simply admins."

Lina
Lina filed a police report on 21 Sep, but unfortunately the police also said that there is little they can do.
It seems as if another netter online has also experienced the same scam as Lina (rating Airlines on Aeroclass) on 18 Sep 2022. He shared that the scammers have a business account on WhatsApp with the phone number 8925 7129.