PM Lee made an appearance in the recent parliamentary debate about the COP report on Raeesah Khan. He said that our system will fail if trust is eroded, and suggests that Pritam demand a court trial.
"Indeed, he should demand a court trial, in order to have the full opportunity to defend himself, vindicate his reputation, and clear his name. That is what I would do if I were Mr Singh."

PM Lee Hsien Loong
Pritam Singh disagreed with this suggestion that he and Faisal Manap should be referred to the public prosecutor. This is because they didn't lie, unlike the claims that COP made.
Why didn't PM Lee give the same opportunity for his siblings to clear his name?
In Bertha Henson's Facebook post, she pointed out the discrepancy in PM Lee's attitude towards the WP leaders and his own siblings.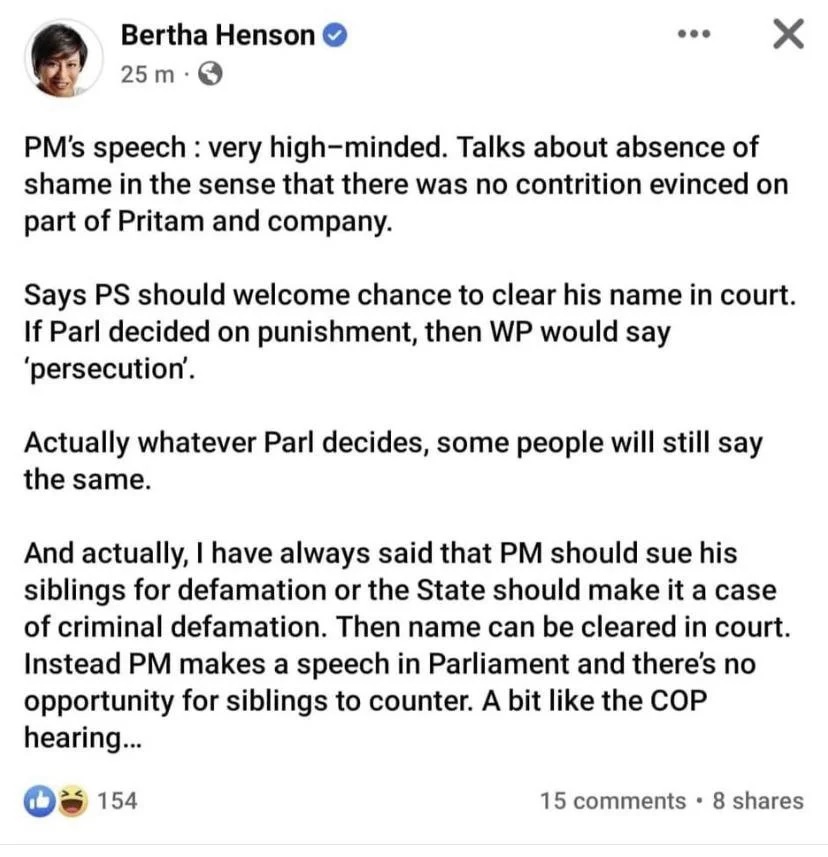 Why didn't he refer his own case to the public prosecutor? Shouldn't he give his siblings the opportunity to clear their names, like what he said Pritam should do?
Instead he chose to just talk in parliament about them without giving them a chance to respond publicly. This is just like the COP hearing where they keep asking the WP leaders guided questions.
Why did he even bring his family feud into parliament instead of just going to courts?