By Zen — Singaporeans are concerned about the rising number of workplace fatalities in the country recently. There were 39 fatalities in 2019, 30 in 2020, and 37 in 2021. This year (2022), we are only 3/4 through the year and we already have 36 recorded workplace fatalities.
On August 3, a 43-year-old worker died as he was pinned between buses. Weeks after a 72-year-old traffic controller was run over by a truck. On August 22, a worker fell into the sea after a crane pier collapsed. Three days later, a 65-year-old was hit by a forklift, and the next day, concretes fell on another worker, which cost his life. All five work incidents happened within the same month.
Why are companies not taking this more seriously?

This has been happening for a long time, yet this problem still exists. It feels as if the companies are not taking safety seriously enough. It almost seems as if risk assessments are too much of a waste of money for them, and they wouldn't do it without the government's mandate.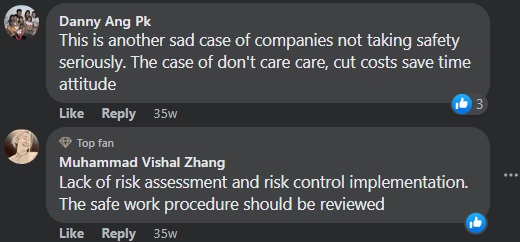 Are the temporary solutions enough?
Recently, the Ministry of Manpower (MOM) ordered all companies to have a safety time out between 1-15 September. This time out is meant for companies to review their safety measures. MOM also introduced a six-month "heightened safety" period, which takes effect from Thursday till Feb 28.
"Under this, companies who are found to have serious workplace safety lapses as well as their senior management will be held more accountable…Chief executives of these companies will also be required to personally account to MOM and take responsibility for rectifications."

Channel News Asia
Especially if all of these ideas are only for the short term? What happens after that?
Companies should be held more accountable.
There are many things the MOM can do to solve this problem. For example, companies can be punished with jail time or fines. They should also get feedback from workers on the ground to address the issue.