Former GIC chief economist Yeoh Lam Keong has deemed the supposed S$270 million loss by HDB on BTO project as "disingenuous and misleading". This is in response to Desmond Lee's attempt at trying to explain why HDB does not profit from BTOs.
What did Desmond Lee say?
Desmond Lee said that the estimated development loss of about S$250 million for the project would increase to about S$270 million after considering the Central Provident Fund (CPF) housing grants given to eligible buyers.
He added that the estimated land cost for the project was S$500 million, determined independently by the chief valuer using market valuation principles.
"Land forms part of the past reserves, hence when HDB uses the land for development, the money that HDB will need to pay for the land must be paid back into the past reserves, which are invested and grown for future generations and are protected," 

Desmond Lee
Yeoh Lam Keong's Response
Yeoh said that this is an accounting "sleight of hand" because the government acquired most of the land at a much lower cost by compulsory acquisition. He also argued that the true cost price should be the original book value of the land plus construction costs which on average is probably much lower than BTO prices before subsidy.
He also proposed a more equitable, transparent and affordable way to price BTO flats. The cost of BTO flats should be factoring in construction costs plus a small premium for location available by ballot.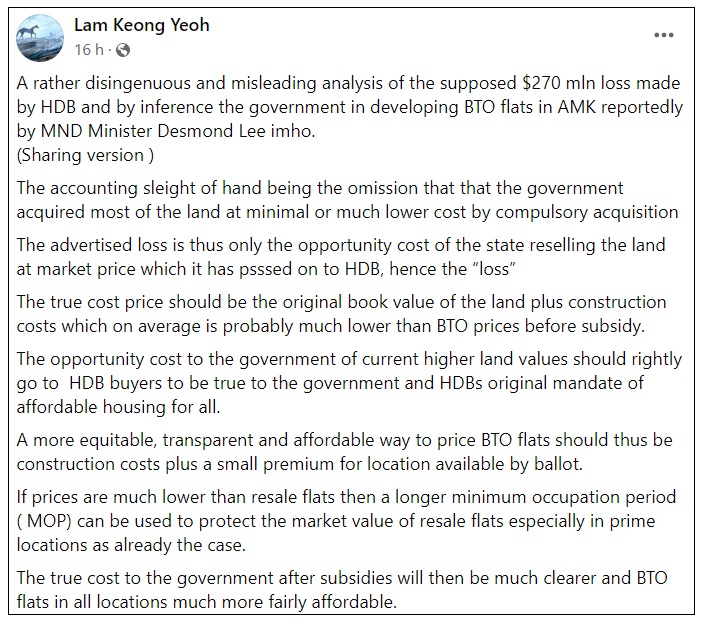 HDB should be public housing, meant for the public. It shouldn't be so unaffordable!