Ministers Shanmugam and Vivian Balakrishnan has been in the news lately for their tenancy at at 26 Ridout Road and 31 Ridout Road. In multiple journal pieces and articles, Reform Party's Kenneth Jeyaretnam (KJ) and The Online Citizen posed a number of important questions regarding this. Here is a summary of all the arguments.
1) The Ministers Should Not Be Able To Afford The Rent On Ministerial Salary Alone
KJ acknowledges that he knew of a colonial mansion rented out for $30,000 a month, "but that was several years ago and market rents will have increased considerably since then". He also says that his conservative estimate of the cost of the house at $1100 psf show that the house would be worth at least $55 million. At this price, a 3% rental yield would cost $1.65m a year.
"Even on our Ministers' outrageous salaries of around $2 million a year it is difficult to see how Vivian or Shanmugam could afford to pay the market rent for such a pricey property. "

Kenneth Jeyeretnam
Accordingly, he questions whether the ministers are paying market rental reached in an open bidding process.
"If Shanmugam and Vivian are paying less than the market rent then there is also the question of whether this has been declared to Inland Revenue Authority of Singapore (IRAS) to ensure that this perk is taxed as income (even at Singapore's very low rates for the rich)."

Kenneth Jeyaretnam
2) Someone Else Could Be Paying For Them, Possibly A Criminal Breach Of Trust
"It may be that a generous donor to the PAP, concerned that our hard working Ministers should have somewhere bucolic to relax in so that they can brainstorm novel ideas for investing money to improve the lives of as yet unborn generations of Singaporeans, most of whom will come from abroad… If Shan and Vivian are indeed occupying these palatial properties and the state is picking up at least part of the tab then it is plausible that they are guilty of Criminal Breach of Trust as public servants."

Kenneth Jeyaretnam
If this is the case, KJ is asking for the ministers to be accountable to be Singaporeans.
3) The Bungalows Were Not Empty. Someone Else Was Forced By SLA To Make Way For Shanmugam, The Boss Of SLA
KJ shared that he spoke to sources in the neighborhood who told him that 26 Ridout Road was not actually empty. It had apparently been inhabited by an expat hedge fund manager "who was then squeezed out by unreasonable terms imposed by SLA, which as we know is headed by Shanmugam".
4) A Significant Number Of Trees Were Cut Down After Ministers Moved In, They May Have Abused Their Power To Do So
The Online Citizen shared in an article that satellite images show that their move led to a lot of trees being cut down.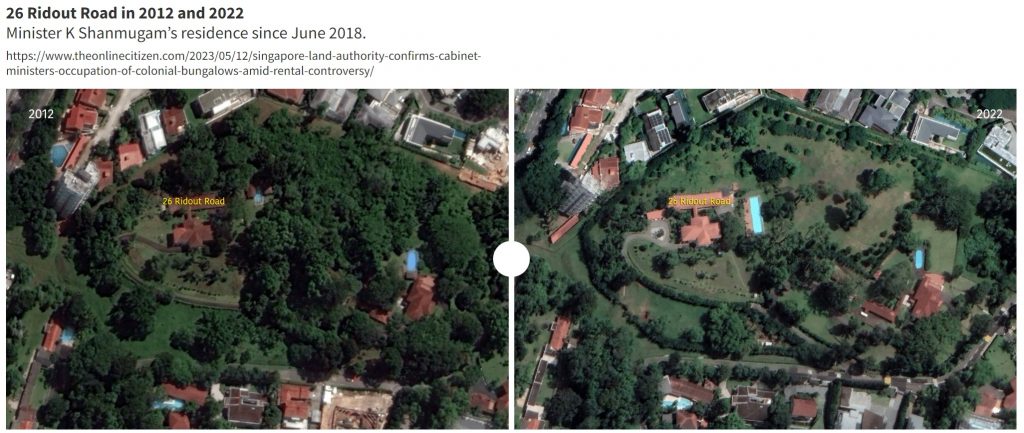 TOC shared that the trees are likely to be mature as these are colonial bungalows. Ironically, there is a Heritage Tree Scheme officially launched in 2002 by Vivian Balakrishnan, then Minister of State for National Development, which protects "heritage trees" from being felled with a girth exceeding 1m without prior approval.
"Did the trees cut down at the ministers' residences have conservation status? If so, was approval sought for their removal, and who gave this approval? Were the approvals, if any, backed by independent assessments?"

The Online Citizen
5) Tenants Are Supposed To Pay For Their Own Renovation, But Did SLA Pay For Shanmugam's Renovation?
TOC noted that SLA may have built a carpark just for Shanmugam. However, SLA's tenancy agreement clearly states that any renovation should be at the tenant's own cost.
"As SLA states that the property was rented to Mr Shanmugam in June 2018, it then raises questions as to why SLA, instead of the Minister engaging his own contractor, assumed the role of developer for constructing the sheltered car park. The issue of who financed the construction works also remains unclear."

The Online Citizen

6) There Is Conflict Of Interest As The Ministers Are Essentially SLA's Bosses.
The ministers are essentially SLA's bosses, there is a conflict of interest. Hence, in an open letter, KJ asked for a independent committee of inquiry to look at the issue. This is especially since SLA's statement is insufficient to answer all the questions so far.
The Ridout Rd Issue Has Also Highlighted To Us The Inefficient Use Of Land in Singapore
The fact that these huge pieces of land are untenanted shows how our land is inefficiently managed. KJ pointed out that there is a "severe housing shortage in Singapore".
"The PAP Government has provided no real justification for why it is holding back so much land in the form of former colonial estates when it acknowledges a severe housing shortage in Singapore and when prices keep rising… On a per capita basis Singaporeans have some of the smallest living spaces in the world at only 258 square feet per capita according to a South China Morning Post survey."

Kenneth Jeyaretnam
Updates (23 May)
On Tuesday (23 May), Prime Minister Lee Hsien Loong announced that Senior Minister and Coordinating Minister for National Security, Teo Chee Hean, is to conduct an independent review regarding two residential properties. Mr Shanmugam, the Home Affairs and Law Minister, and Dr Balakrishnan, the Foreign Affairs Minister, had requested a review that is independent of the ministries and agencies they supervise.
In an interview with the media, Shanmugam called the matter "outrageous" and said that he had "nothing to hide". Vivian Balakrishnan also responded by saying that he is "very glad that Prime Minister Lee agreed to have this review and to publish all relevant facts and findings before we have a full debate in Parliament".
[Edited with inputs from Kenneth Jeyaretnam]