It was recently announced that Lawrence Wong has been made the new leader of PAP's 4G team. This means that it is likely he will be our next prime minister (PM).
This announcement comes after about 2 years since Heng Swee Keat, the previous PM-apparent, announced his retirement. Earlier, PM Lee said that they didn't have anyone in mind because they "do not have a spare candidate".
Yet, Lawrence Wong came as no surprised because Singaporeans could guess that the PAP was deciding between him, Chan Chun Sing, and possibly Ong Yew Kung.
The next prime minister once again comes from PAP's limited elite circle.
Singaporeans knew for sure that the PM role would be given to someone from their "elite circle". This "elite circle" doesn't include "backbenchers" from PAP either.
No matter how much our mainstream media tries to spread the propaganda about Lawrence Wong being some new success story, he is no different from the other PAP leaders. Scholars with no sense of how anyone lesser than them survives in this country.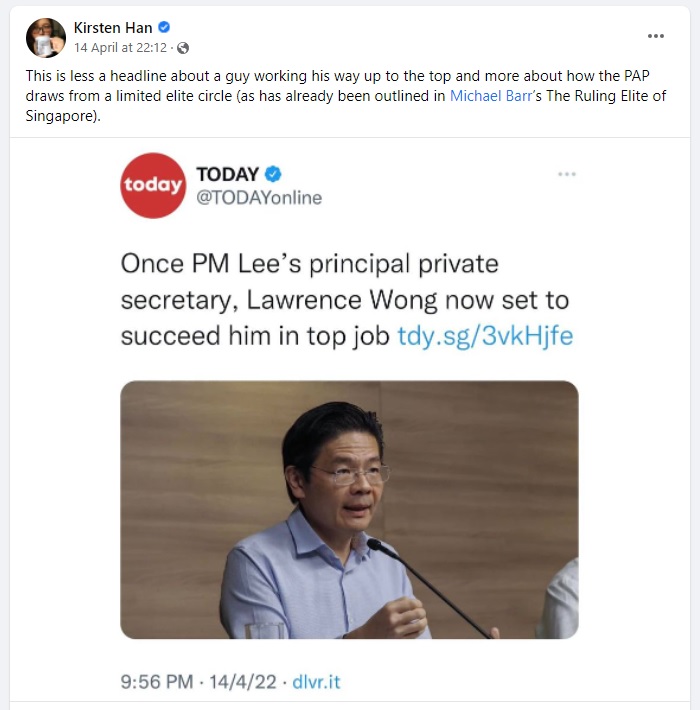 Lawrence Wong didn't even get a unanimous vote within is party. He only received 15 out of 19 votes. Bear in mind these 19 voters are from the PAP. Imagine if Singaporeans could vote for our next PM, wouldn't there be an even smaller percentage of people voting for him?
Singaporeans do not have any other options because once again the PAP is making decisions for us.